Registered User
Join Date: Apr 2006
Posts: 46
Dupont or PPG whats better?????
---
I'm getting ready to paint my 67 Galaxie, and don't know what paint to buy PPG or Dupont. Dupont is about $150.00-$200.00 more. Has anyone had any concerns with either?
Registered User
Join Date: Feb 2006
Posts: 176
Dupont or PPG whats better?????
---
the painting that i have done i have always used ppg and i have never had a problem with any of there products and i have never used dupont but i have herd there products work well
Subscriber
Join Date: Jul 2004
Posts: 1,741
Dupont or PPG whats better?????
---
I just bought some ppg for my motorcycle so I hope its good.
Registered User
Join Date: Sep 2001
Location: Las Vegas NV
Posts: 3,700
Dupont or PPG whats better?????
---
I have (two stage) PPG on the Mach1 and Dupont "Chromabase" on Queenie's Camaro ...
No complaints either way ...
Just be careful with whatever may be on the car now ... both brands have lifted old paint for me ... strip and prime as needed.
_________________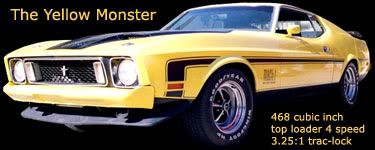 [ This Message was edited by: MonsterMach on 5/24/06 1:34pm ]
Registered User
Join Date: Jun 2002
Posts: 343
Dupont or PPG whats better?????
---
The 2 guys I know that do professional bodywork swear by Dupont and won't use anything else. Personally, I don't know, but I have seen some of the ppaint jobs they have laid down and they say they always get a better result with Dupont. Maybe they are just more familiar with how it will respond under certain circumstances than others brands. my 2 cents

---
Why cant life ever be simple, and car parts be cheap???
Registered User
Join Date: Jul 2004
Location: Roy, UT
Posts: 317
Dupont or PPG whats better?????
---
Spray what you are familiar with. If you havent used either than I would have to say Dupont chroma base is easier to mix, two parts to PPGs three parts. I have always used S/W or PPG but have sprayed the chroma base and it lays down pretty near the same.
Registered User
Join Date: Nov 2002
Location: maryland
Posts: 3,776
Dupont or PPG whats better?????
---
I work at a body shop. i seen my brother spray every brand thats out there.To me they are all the same. i see no diffrents in the cheap and high$$$$ stuff. look at my car in the pic. i cant recall the name of the paint . but i was the cheapest paint out. the car was painted 7 years ago. its still holding up great today. oh yeah the car wasnt wet sand and buffed either!!

Registered User
Join Date: Oct 2003
Posts: 108
Dupont or PPG whats better?????
---
Dupont is known to spray thin and doesnt seem to cover as well takin more coats of base to get full coverage. With that said Dupont guys swear by Dupont...PPG guys swear by PPG...personally PPG is what i would use. Thats what we use in our shop and thats what will go on all my cars. As far as mixing you can get some 3M mixing cups that are made to make that task as simple as can be for any mixing you need to do.

Subscriber
Join Date: Dec 2002
Posts: 233
Dupont or PPG whats better?????
---
I am a Controller for a Ford / Toyota dealership. We are a PPG shop. I was working at a Chevy Dealership before this one and they were a Dupont shop. Both are good products. I would go with what your painter likes.

I painted my Red 39 Ford Coupe 18 years ago with PPG DAU 82 base and clear. It has alway been garaged, but the paint has really held up nice. A lacquer job would have cracked and split off by now.

The Dupont goes not cover as well with its base vs PPG. Step up and buy the best clear coat. Money well spent. Both of these dealerships put out nice work.

The key to commercial body work is the ability to match the factory paint. Both PPG and Dupont mix stations will effectively match factory paint. This is not as much an issue with overall restoration/custom paint.

My preferance is PPG because my 1939 Coupe really looks nice after a 18 year garage appiled home paint job.


---
1939 FORD COUPE - 351W POWER
1939 FORD CONVERTIBLE 302/345HP POWER
1966 MUSTANG COUPE - 302 ROLLER W/351 HEADS
ONLY BOYS HAVE BOW TIES
Currently Active Users Viewing This Thread: 1

(0 members and 1 guests)