Registered User
Join Date: Nov 2008
Posts: 5
Porting E5AE heads
---
I am about to do some home porting for 351w E5AE heads off an unused Ford Racing M-6007-J58 351W truck engine. I am going to use the engine on my 65 fb mustang.
This is how they look
I've never ported heads before. The plan is to stick with the stock valves. I'm gonna leave the intake side almost stock, just smoothing them.
I was going to gasket match the exhaust, but the Fel Pro 1415 1.25"X1.48" gasket looks huge compared to the stock exhaust ports, can I go all the way? The gasket size is the same as the flange opening in Hedman Header's that I'm using.
Any advise would be highluy appreciated.
juha
Registered User
Join Date: Apr 2005
Posts: 865
Re: Porting E5AE heads
---
Befor you go too far-- If you put these heads on anything smaller than a 351. the compression will be very low-- On a 289 or 302, you cant even ge it up to 9 to one-- The chambers are much larger than the 289-302 heads- This is not a good deal


JOE SHERMAN RACING
Registered User
Join Date: Nov 2008
Posts: 5
Re: Porting E5AE heads
---
Thanks Joe,

I know the compression ratio is not gonna be very high. It's a complete 351 crate engine, I just removed the heads, port them and put them back with Comp Cams cam and stiffer springs. Any horse power I gain with porting is a bonus. I've got the tools, the time and I wanna learn. Will be using aftermarket heads later on.
Registered User
Join Date: Sep 2001
Location: Anaheim Hills, Ca
Posts: 1,465
Re: Porting E5AE heads
---
I am not as familiar with '85 351w heads as I am '70 351w heads, but one look at those ports shows there is a lot of improvement to be made to them. I made a post about porting my heads in this forum a few years ago that you may still be able to find. End result was a 331 with 348 RWHP so it worked out well. I would also think that the E5 heads could be milled down .030 to .050 which will reduce the cc's of the chamber by 5 to 8 cc's. With a not so wild cam and the milling, you should still be OK in terms of valve to piston clearance.

One other thing, you gotta clean up those intake ports too...not just smooth them...open up the throat and bowl.
---
Tracy Blackford: Anaheim Hills, Ca
www.pacificthunderperformance.com
65 Mustang, 331 custom built with 289 H beam rods and 383W piston, 282S cam, self-ported '70 351w heads, T5z, 9" w/3.50s.
430 HP@6500
Registered User
Join Date: Dec 2002
Location: Lake View Terrace,CA Usa
Posts: 1,311
Re: Porting E5AE heads
---
Heres my heads, The exhaust ports were oval to match my headers but you get the idea.
I was actually told by the owner of West coast cylinder heads in Reseda ca that the later heads take porting better. They have more meat in the intake bowls. He was concerned that they look a little thin in the bowls but that they will prob be ok. The owner helped me port the intakes, the exhaust i did on my own.
GL!
Oh and get yourself a shop vac and hook it up in the area of grinding, Youll save your garage from having dust EVERYWHERE! Dont forget the saftey equip! Saftey glasses, dust masks etc. That Iron is NASTY stuff.
http://www.fordmuscle.com/forums/hom...y-71pinto.html
---
Life long project. No it wont ever end....
Registered User
Join Date: May 2007
Location: Robinson (Pittsburgh PA)
Posts: 786
Re: Porting E5AE heads
---
Cool job! I was in the same place on a set of GT40s. I didnt know how far I could go.... I found a junk one so I cut the junk one in half to see what meat was there.
---
Colin Pittsburgh PA
Galaxies! 59-68 Fox Mustangs! 87-93
06 Powerstroke!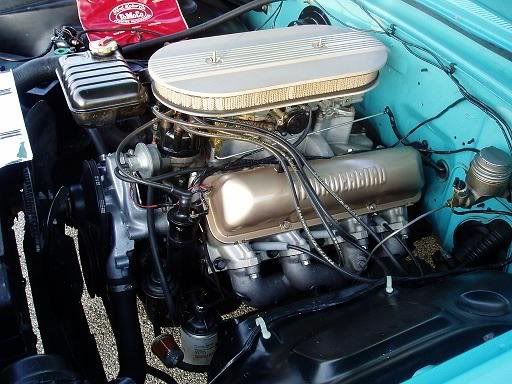 Currently Active Users Viewing This Thread: 1

(0 members and 1 guests)