Registered User
Join Date: Jun 2010
Location: Hamilton Ontario Canada
Posts: 42
Re: Mustang aluminium radiator upgrade
---
yah think so do yah ,Its hot here with the humidity actually its terrible runs arounf 43 -45 here humidity just wipes you out so it gets hot here as well
---
91 LX coupe 310 cu 14.1 C4 Scat Crank Trick Flow R series Heads, Custom grind cam ,A4 Block Strange axles BarryGrant Goldenclaw 850 carb 5800 stall ,vic Jr intake ,ross racing pistons 600hp
Registered User
Join Date: Oct 2010
Posts: 1
Re: Mustang aluminium radiator upgrade
---
What about the transmission cooling lines?
Re: Mustang aluminium radiator upgrade
---
I am not sure if you can get a Nothern Rad with a built in trans cooler or not...Since I am running a manual trans it was not an issue for me..You can always run an external trans cooler mounted out in front..Most guys with a "built" automatic trans or a higher stall convertor will want to run one anyway..
Registered User
Join Date: Aug 2010
Location: Seattle
Posts: 1,015
Re: Mustang aluminium radiator upgrade
---
Quote:
Originally Posted by
ponyexpres1967
View Post
What about the transmission cooling lines?
Champion cooling makes a great radiator for the price and they include tranny coolant options.
As far as the lines themselves? I'm running custom fabricated lines I had made at a hydraulic supply shop. They're "soft" lines rated at something like 400PSI and 800 degrees... if either of those are reached something is seriously wrong!
I had them hook up quick connects on both sides so I can install and remove the pair in probably 5 minutes which includes getting the jack stands in place or driving the car up on ramps.
The best part of this is that they're pretty cheap. I think I had mine built for around $50.00 for the set and that included all sorts of little connectors to get the quick connect stuff functional.
I've bent my own tranny lines a couple times... I'll never do it again, this is so much easier and they also look better in my opinion.
---
Current Project: 460 powered 1966 Fairlane GT/A 'vertible
Current Driver: 390 w/Death-O-Matic, '62 Galaxie 500 2dr Hardtop
Registered User
Join Date: Jan 2008
Location: Seattle, WA area
Posts: 10,298
Re: Mustang aluminium radiator upgrade
---
Quote:
Originally Posted by
dutchlincoln79
View Post
Do you need to ground the aluminum radiator as well as the block then?
With my aluminum radiator there was a small wire included... Didn't touch it, and its not connected now..
Absolutely. Ground it.
David
---
-=≡ If it was easy everyone would do it ≡=-
[size=1]HotShotsJava.com Hot Shots Java Coffeehouse, Poulsbo ,WA fair trade and 100% organic. Voted best espresso and coffee![/size]
Registered User
Join Date: Mar 2009
Posts: 1
Re: Mustang aluminium radiator upgrade
---
A MAJOR point that has not been addressed in the thread is the fin count of the radiators in question, either aluminum or copper. As a prior operations manager for GE Heat Transfer we manufactured heat exchangers for nuke powerplants world wide, in addition to the Sea wolf submarines to name just a couple.
For the most part we used 90/10 copper nickle tubing and aluminum cooling fins. Occasionally we would get an order for copper finned heat exchangers, but for the most part they were cost prohibitive for the return on heat transfer.
Our design engineer was one of, if not THE gray beard of the industry. He actually had in his office the original heat transfer book. We referred to it as the holy grail. It was done in pencil including all the graphs during the great depression. As a matter of fact, the new heat transfer text books use the exact same graphs.
Anyway, back to the point. Fin count cannot be left out of the design criteria. Are there 12,14,16 18,20 fins per inch? Fin count equals cooling surface. Within reason, the greater the fin count and contact point (collar) between the tube and fin, the greater the opportunity for heat transfer. Other factors such as airflow and what you are putting through the cooling tubes, Glycol, holy water (super clean water) assist or impede heat transfer.
All other factors remaining the same, I would rather have a copper radiator with 16 fins per inch rather than an aluminum radiator with 12 fins per inch.
Fin count is probably more critical in this application than the material the cooling medium is flowing through.
Re: Mustang aluminium radiator upgrade
---
It seems this old thread has turned into a copper vs aluminium debate but all the info is cool (no pun intended)..I have long since updated the upper mount from the stock unit to just a couple of short pieces of threaded rod with two jam nuts to adjust the rad just where I wanted it..After that I covered the top with a simple piece of stainless to give it a much cleaner look.
Re: Mustang aluminium radiator upgrade
---
Here are a couple more pictures..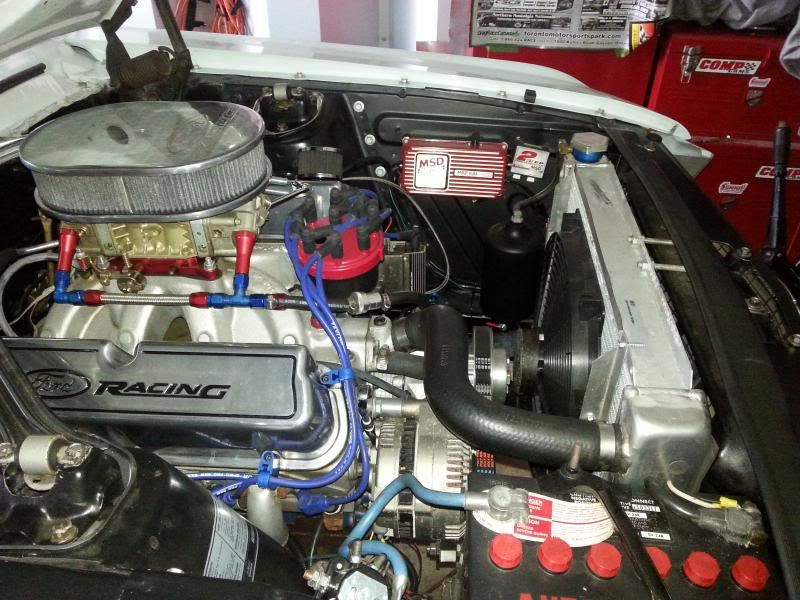 Currently Active Users Viewing This Thread: 1

(0 members and 1 guests)