Registered User
Join Date: Nov 2006
Posts: 27
Meziere Water Pump - Alternator Mount Problem - help ; )
---
I have a Small Block Ford and I'm installing the Meziere (wp111) Electric water pump, when I looked ahead to mounting the Alternator, I remembered that all the stock brackets, mount to the pump itself. Since it's Sunday and I can't call Meziere, I went to there web site. They do not list anything as far as "adapter Brackets". Has anyone run into this problem? I do not street drive the car anymore, but I do perfer to run an alternator. I'm trying to make the final event next weekend, so any help would be much apreciated.

Regards, Brian
Registered User
Join Date: Dec 2002
Location: Lake View Terrace,CA Usa
Posts: 1,311
Re: Meziere Water Pump - Alternator Mount Problem - help ; )
---
Meziere Enterprises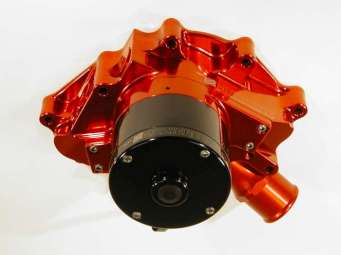 I think you need this one for ease of installing the alternator brackets etc.
If memory serves right its way expensive, $450+ but the aggravation saved can help with the cost aspect of it.
If i read it right, the 55gph has the heater/bypass ports and the 35gph version doesn't? Check it out. If you don't need the heater setup then the 35gph one "supports up to 650hp" Prob save a few bucks there.
I went with a remote mount setup (for a few reasons) and i definitely had alt mount issues. I ended up buying a Moroso alternator mount setup for the ford But hardly used much of it. I made a custom mount and pieced it together.
Update, summit racing has it for $370..
Meziere Enterprises WP311R - Meziere 300 Series Electric Water Pumps - summitracing.com
gl!
---
Life long project. No it wont ever end....
Registered User
Join Date: Nov 2006
Posts: 108
Re: Meziere Water Pump - Alternator Mount Problem - help ; )
---
Moroso makes a bracket that will work for your pump.Its about 100.00 in Jegs or Summit.March also makes one but its about 250+.
I have the same pump but have not installed it.I also need to get the moroso bracket
---
1966 Mustang coupe,331 12:1, solid cam,windsor jr,vic jr, pro-systems 750dp.flowing 780cfm ,c4 w/brake,8" conv 4:11 rear with spool.
Best time so far
[email protected]
on 255/60/15 M/T drag radials
Tech Contributor
Join Date: Jan 2002
Location: Ontario,Canada
Posts: 6,662
Re: Meziere Water Pump - Alternator Mount Problem - help ; )
---
Since the pump uses the same bolt pattern you can probably just use spacers on the bolts to make the old brackets work?
---
1968 mustang 408W Hybrid..Burns gas and rubber!
[email protected]
with a crappy 1.72 60ft.
Currently Active Users Viewing This Thread: 1

(0 members and 1 guests)