Registered User
Join Date: Aug 2008
Location: Dortmund , Germany
Posts: 111
No Vid. but Pics of my "D.Gurney Tribute Swap"
---
Well, after a long time i have something to show:
I decided this year (April) to give my Cat a new look by swapping it into a Race-Looking Car with a historic model.
ok...my car is a ´69, and the model is a ´67
but i think the swap has still turned out well.
so here is the historic model: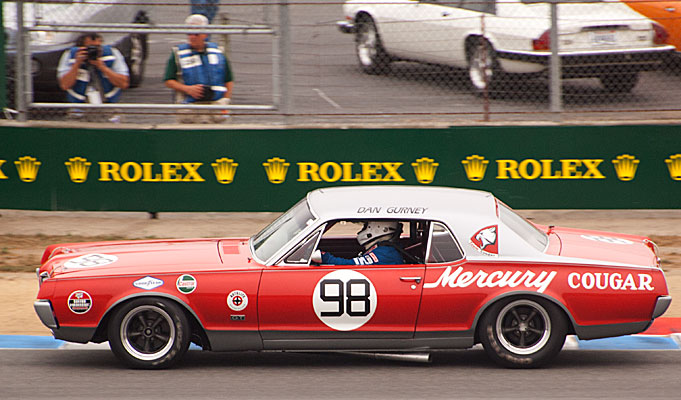 You know for sure Mr.Gurney, as it is one of your succesfull Racing Drivers, ever.
My car was looking like this before:
i will show some pics of the Work i´ve been through the last two month...everything in this project is DIY.
carefully levering, the chrome parts came off without any damage
Rusty hole....
model always to look on...
grinded with 180 after getting the sticky part of...
repaired and filled with bondo...fine grinding was still to be done
the pillar went away....
the first "pull" was hard to do (by heart)
roof in good condition...only some minor rust spots
naked....
parts off..
rear naked...
old glue grinded off....
grinding , pasting etc...
afer that it was grinding,grinding,grinding(nearly 2 Weeks after Work)
finally it was time to put paint on the car:
and of course also grey/silver....
looks good with some parts back in place....:
side/front:
and finally (after making the stickers (also, all by myself with my cutting machine...)
Costs:for Materials ~500$ + Work(DIY)+ 1000$(New Rims (Torque Thrust))
Feeling: priceless
Regards from Germany
Mark
---
´69 Cougar,mod. 351W, T5z, 3.91 incl. Spool. MT ET Rad.
Currently Active Users Viewing This Thread: 1

(0 members and 1 guests)