Moderator
Join Date: Apr 2004
Location: Indianapolis, Indiana
Posts: 1,132
Heater Box to Cowl Collar
---
Here's a easy inexpensive way to fix your Heater Box Collar. I found that most Venders want close to $40 dollars for this collar. I refuse to pay that kind of money for something I can make myself cheap.
Material List:
* 6" drawband $3.00
* Door weather stripping or foam tape
First, remove cowl collar. The collar has 2 small clips holding it in place.
Next, remove clips from collar
I then cleaned, removed staples,and painted collar.
Next, I put 3m weather stripping on the top surface of the collar that will contact the cowl. I also used the 3m on the Drawband along the edges to seal on heater box & Cowl
now to re-install collar. Make sure you pinched the clips before you put them back on the collar so they hold tight.
Line the clips up with the clip notches, and push into place.
Finally, measure the distance between the cowl and heater box and trim your drawband if necessary. Then feed the drawband around the lips between cowl and heater box, then tighten. I opted to cover draw band with foam tape, but not necessary.
---
Rick DeVito in Indy "Blue Thunder 408W"
[email protected]
mph 1.27 60ft
Rod & Custom MII Sales
---
Last edited by FATNFAST; 02-24-2008 at

07:54 PM

.
Tech Contributor Gold
Join Date: Dec 2004
Location: Amish Wonderland Of Central PA
Posts: 4,909
Re: Heater Box to Cowl Collar
---
Nice easy fix for what looks like could be a common problem. Good job Rick!!
That system must be a Falcon/Comet thing. Mustangs use a different setup and do not use the ring nor a drawband setup. They use a single piece of foam instead, although that may be due to the fact that the heater box sits closer to the vent. They also don't use the little clip thingys either.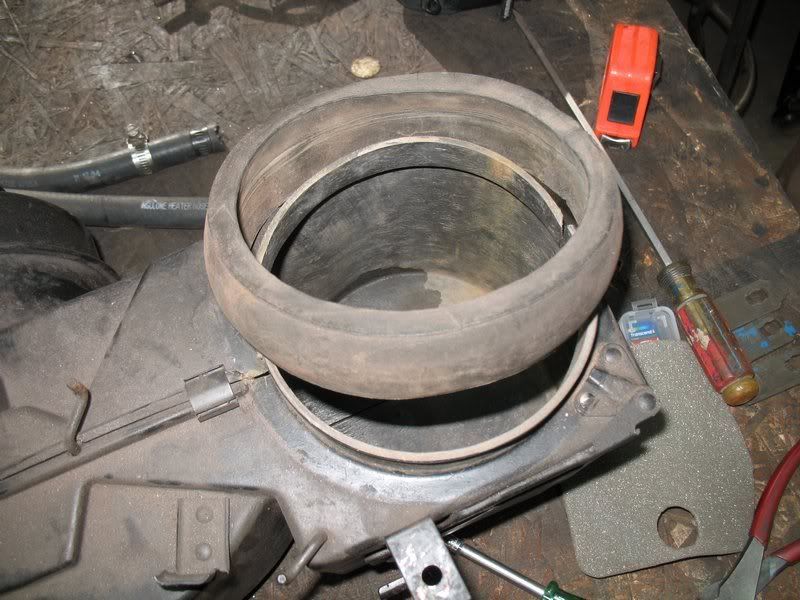 ---
Dennis
65' Stang Street/Strip. Dart 434W NA, Victor heads, G101A 4 Spd, 4:56 rear gear, on 93 octane pushing 3550lbs.
[email protected]
Subscriber
Join Date: Oct 2003
Location: NW PA Grandvalley
Posts: 4,010
Re: Heater Box to Cowl Collar
---
Like Dennis, I used the foam ring on my Falcon that came in the heater gasket set. It was one of those generic kits that fit a Mustang and Falcon. Couldn't quiet figure out what it was for at first, so I used it for the purpose stated above. Seems to work out fine.
---
"Tell it like it is or don't tell it at all" 1964 Falcon 2dr HT, 347V8 4V, dual exhaust, 5sp, pwr assist R&P steering, AM radio, heater with defrost and 2sp fan, electric windshield wipers, cigar lighter, dlx light group, bucket seats, console and full carpet.
Registered User
Join Date: Jul 2007
Posts: 2
Re: Heater Box to Cowl Collar
---
This is the same set up on my 63 Fairlane
Registered User
Join Date: Jan 2005
Location: Sewell, NJ
Posts: 909
Re: Heater Box to Cowl Collar
---
Your repair looks good but you've given up the flexibility that the original part offered. I realize the heater box is rigidly fastened to the car but there has to be a reason they built it to move a bit.

I did the same thing to my '63 Falcon and Fairlane. But in my cases the collar rusted away up in the cowl. One of the vendors listed the replacement kit for Mustangs for $14.95 for two plastic "top hats" and a tube of black silicone. I bought the kit for my Falcon and it fit perfectly. I contacted the vendor with the suggestion they list it in their Falcon catalog. They didn't. So when I ran into the same problem in the Fairlane, I bought the kit again and again it fit perfectly. I used a piece of heavy black plastic and a pair of hose clamps to hold the cowl and heater together.

Later!
Mr. Ed
---
No more cars!
Registered User
Join Date: Oct 2008
Posts: 8
Re: Heater Box to Cowl Collar
---
Nice solution...

I went a little cheaper..

I stopped by my local tire store and picked up a used truck tire tube - using the hat as a diameter sizing guage [tube was a freebie], measured the distance between the heater and duct, cut the tube, and fastened with nylon tie straps..
Currently Active Users Viewing This Thread: 1

(0 members and 1 guests)