Hello, my name is Logan and like many of you a die hard car enthusiast. I actually live cars everyday, as I own and operate a company called Defined Autoworks. We specialize in full custom fabrication of anything rear wheel drive. My personal cars, and race cars have always been imports (Aside from Ford diesel truck for hauling) But as time goes on you develop a quest for something different. For me it was classic muscle. About 5 years ago while at a classic car show, I was really "hit" by the Cougar. I always knew of them but it was that moment I had to have one..... and the story starts!

So finally after a long 2 year search I found a nice 67 for the right price, and the right condition. Since you guys now know a rough background on me, it was important to NOT get a pristine Cougar. With a full fabrication shop at my fingertips I had no intention of keeping the Cougar totally stock. I already have built quite the full race car- A 1994 Mazda Rx7.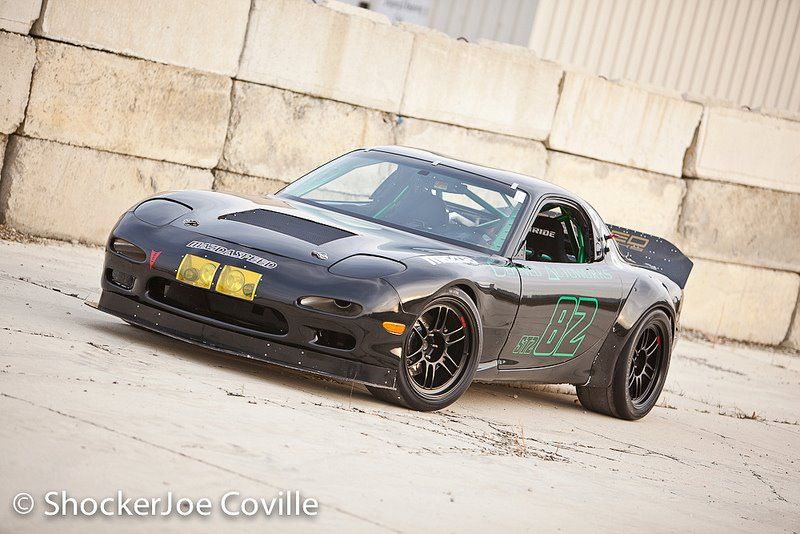 Powered by a naturally aspirated 2.0 liter 3 rotor engine, at 10k rpm made 480 to the wheels. Now its going to a 4 rotor engine, and shooting for 700hp, but that is another subject!

So after bringing the new Cougar home, I began to get it all in order. The bad stuff-
The rear had "add a leafs", the solid axle mounts were bent (which killed the driveshaft u-joints) the differential was welded, it had a very ugly tunnel ram hood scoop, and the front was lifted too. Whew! Lots of work!

After getting some lowering springs and taking off the rear leafs, getting a nice stock rear end it sat much better. Removing the fiberglass hood scoop took time. After lots of sanding, a nice black stripe, and a factory hood scoop here is how it looked-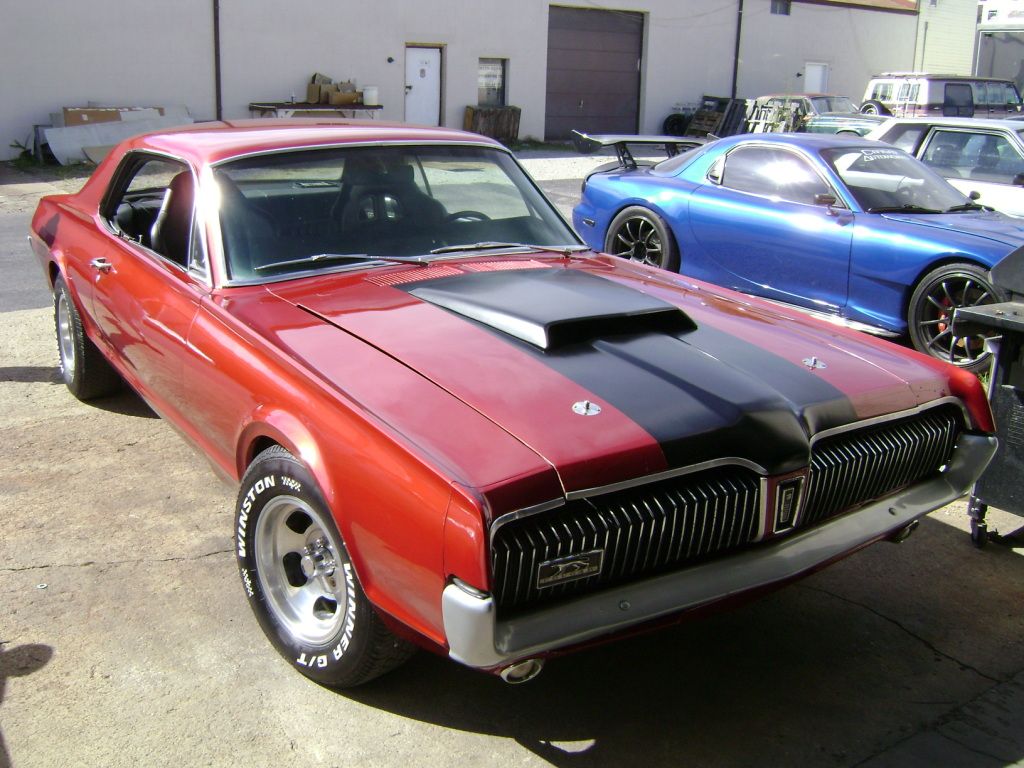 Now that it sat nice, it was a fun car to drive! Luckily it already had a T5 tranny conversion. Unluckily it had a terribly fabricated clutch pedal and cable system. Using a clutch pedal from another car, I quickly made a unit to fit the factory hang assembly. Now it didnt take 500lbs of force to shift. Sweet!

So one day starring at my race car, and looking at the cougar, the wheels started to turn. Well the wheels mostly was the subject because I wondered if the race car hoosiers would fit the Cougar. 10 mins later, they all fit. Hmmm impressive. Not impressive is running 315's of slick without any suspension reinforcements! So began the custom work.

Here is the custom mount I made to tie the panhard bar directly to the axle. If some of this looks strange its because its all based on my experience in the race industry. It was all "seat of the pants" fabrication, and was intended to be made quickly. (We dont get much free time to ourselves!)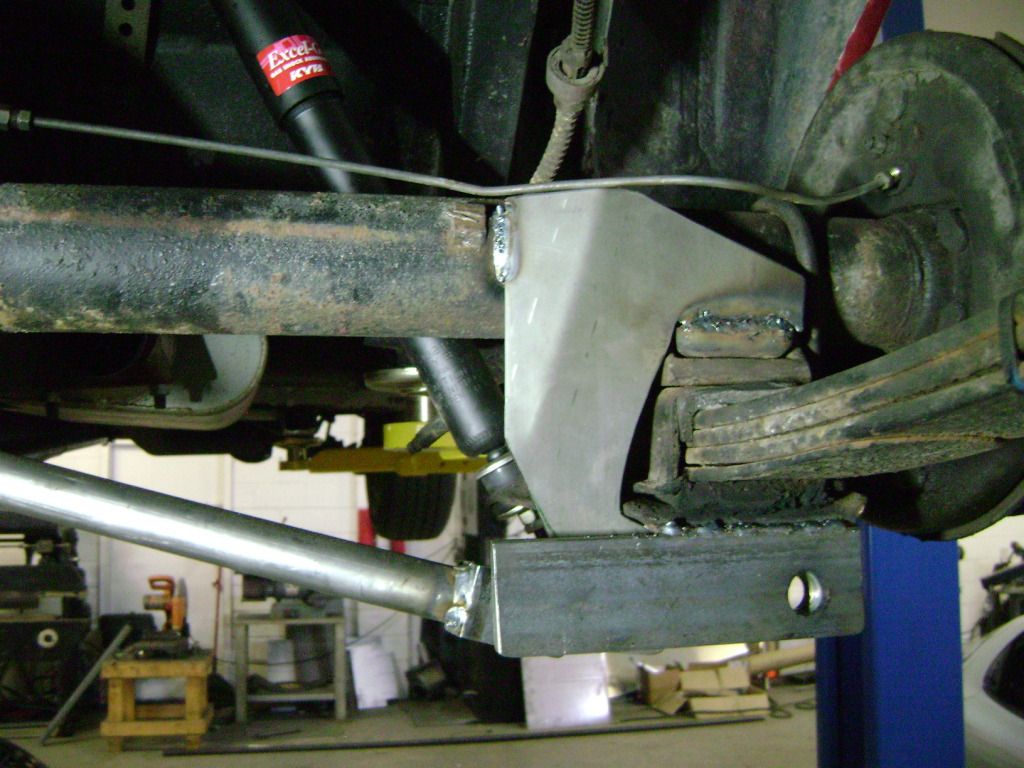 A panhard bar will put a lot of force through components. So I fully triangulated the axle mount. This will transfer all that force through the axle, not the U-bolts and leaf spring assembly.
Here is the chassis side mount. Again triangulated and cross bar going from frame rail to frame rail.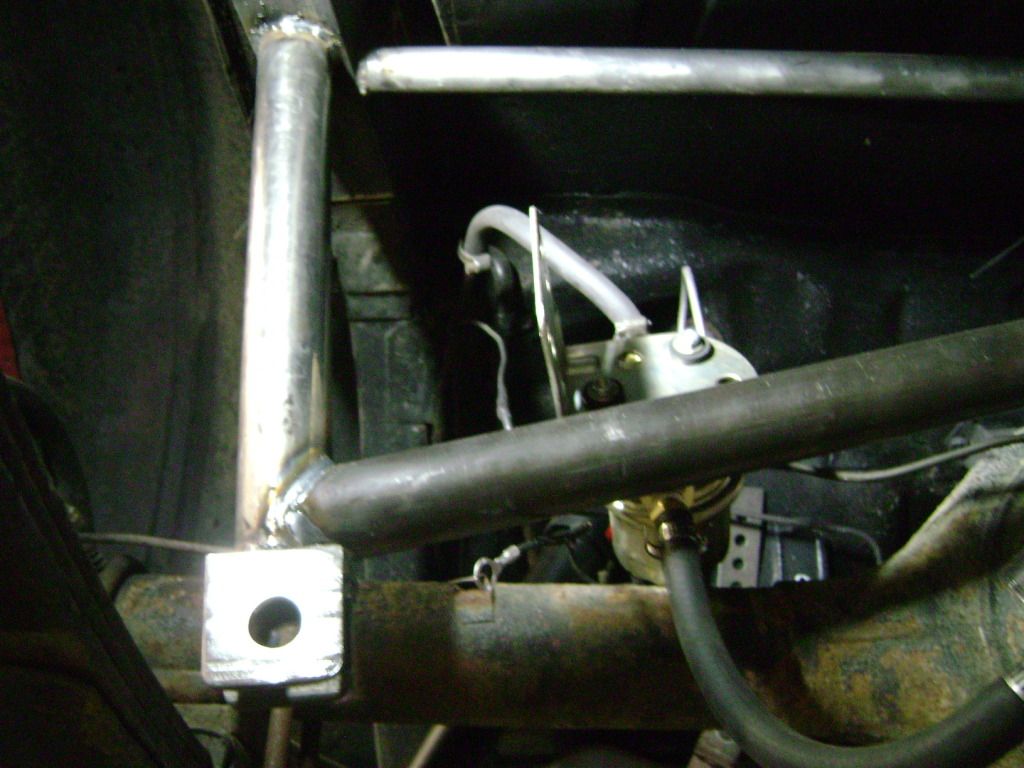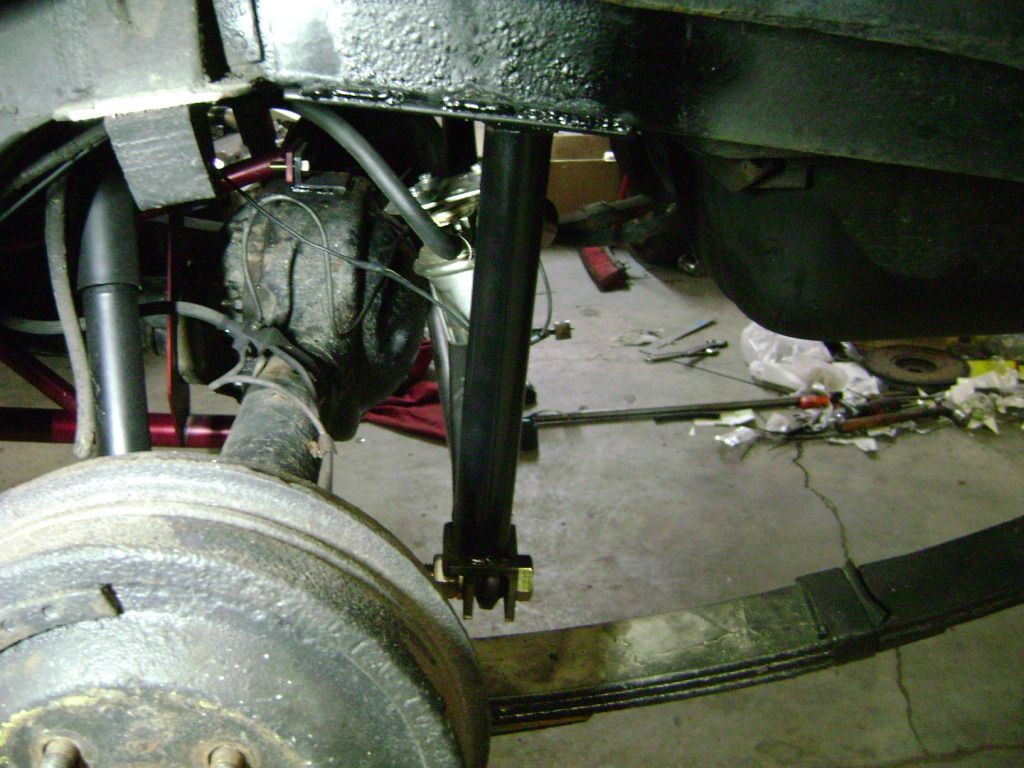 Here is the assembly without the bar bolted on.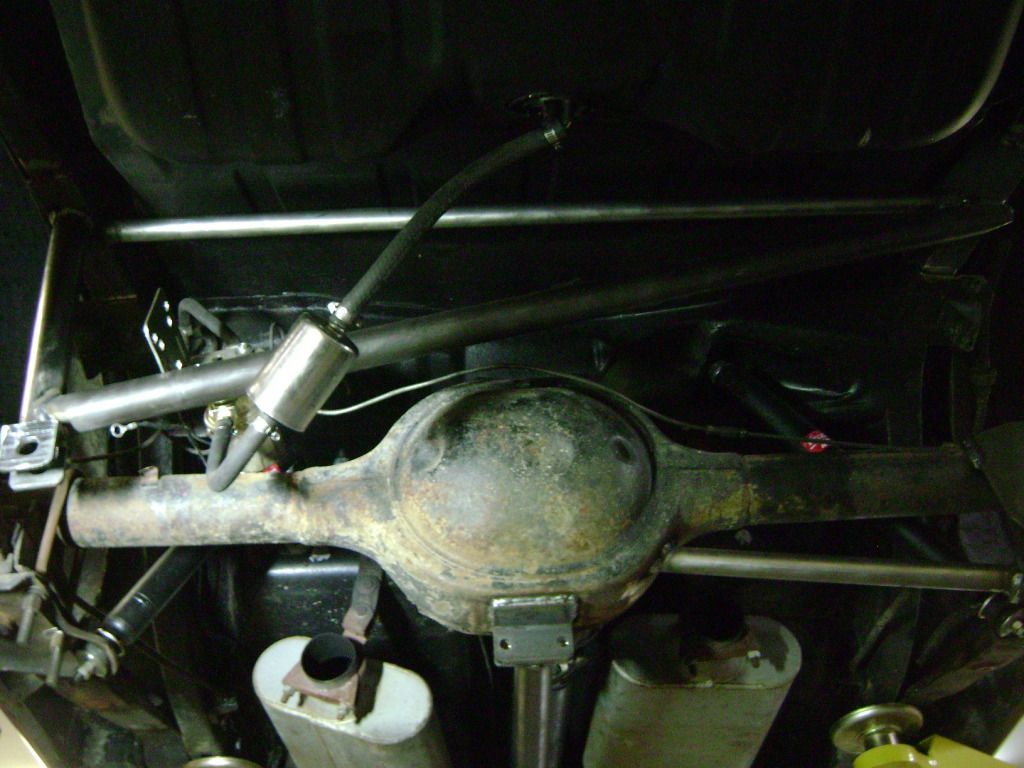 Now that the axle was located left and right, it was time to make sure it didnt twist. I didnt want to put very much money into the project (Rx7 race car takes most of that) so stock leafs had to stay for now. So I did something pretty controversial. I built a torque arm and kept the leafs.

Here it is done and painted, I am bad on the step by step photos.
Then welded on upper and lower tabs for the torque arm directly to the axle. This puts no force through the pinion snout. I felt it was a more stable design.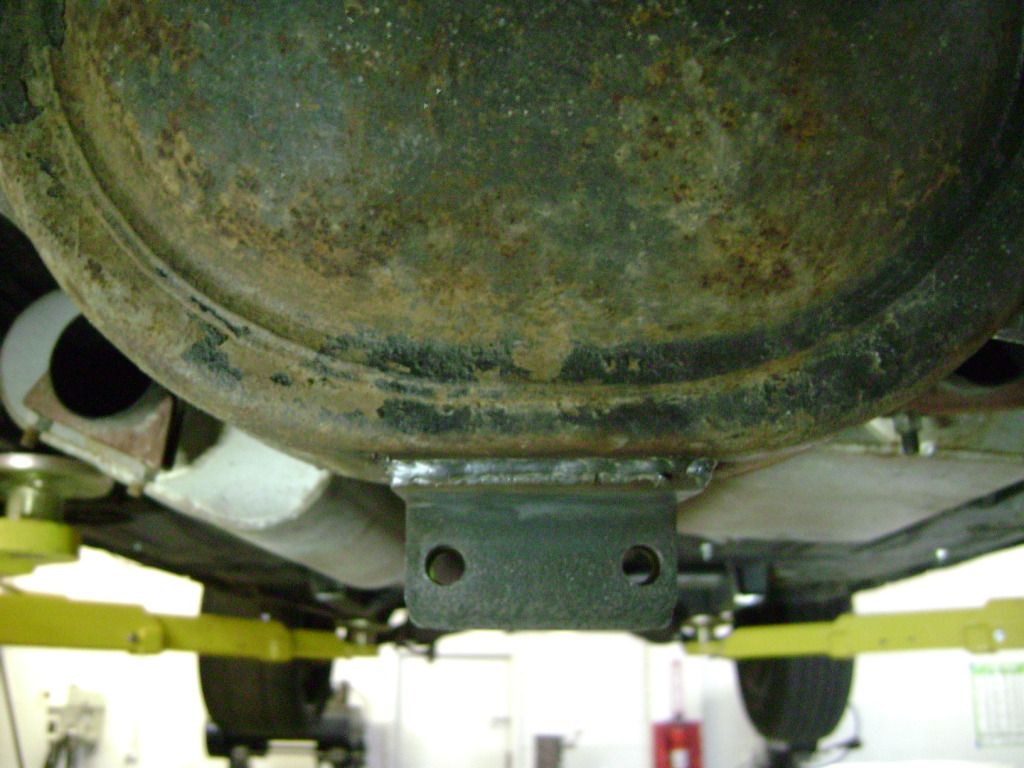 Then up front, I tied the frame rails together and added the front mount tabs to the tube. While in there, added tubing to connect the front and rear frame rails along with some nice 1" cross structure for more rigidity. Please excuse the exhaust, that came on the car. I didnt build it!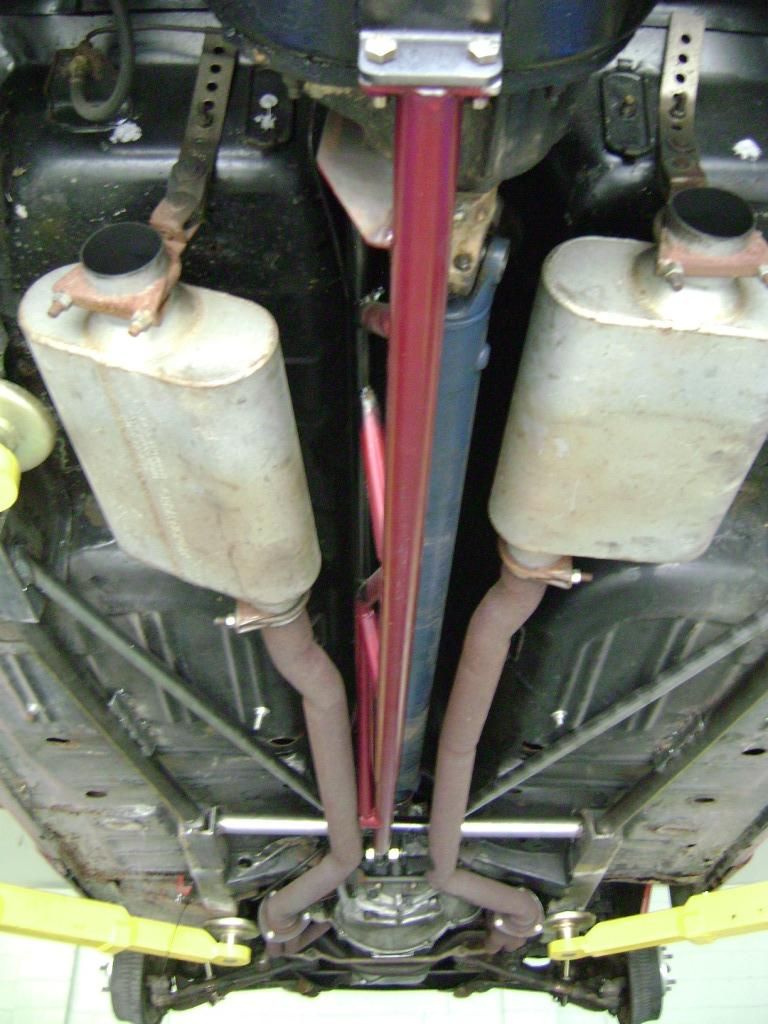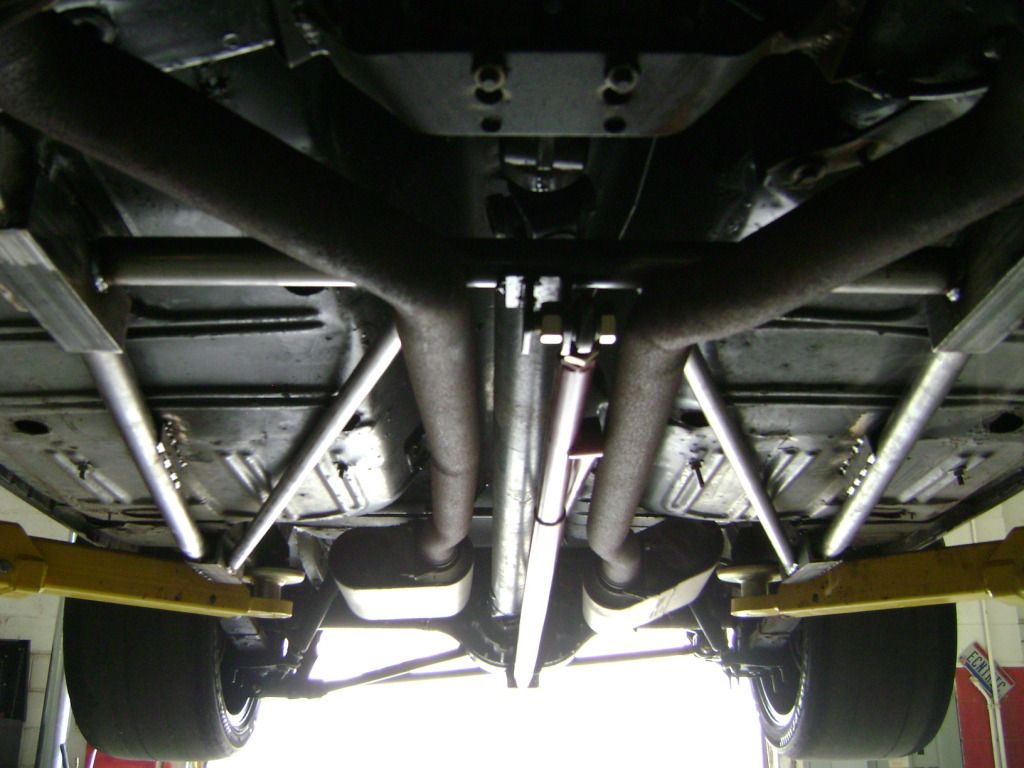 Then I quickly realized the 315's had no clearance on the inside. So out came the wheel tubs and that started the mini-tubs. Sure I could buy some, but we are a full race shop. So why? haha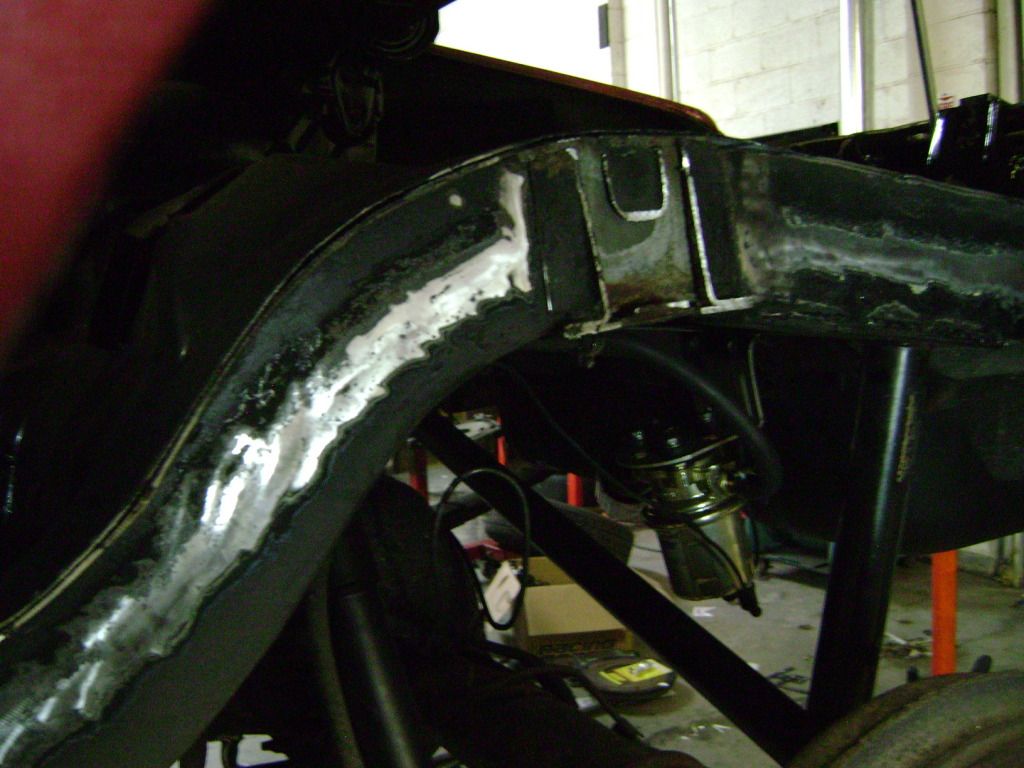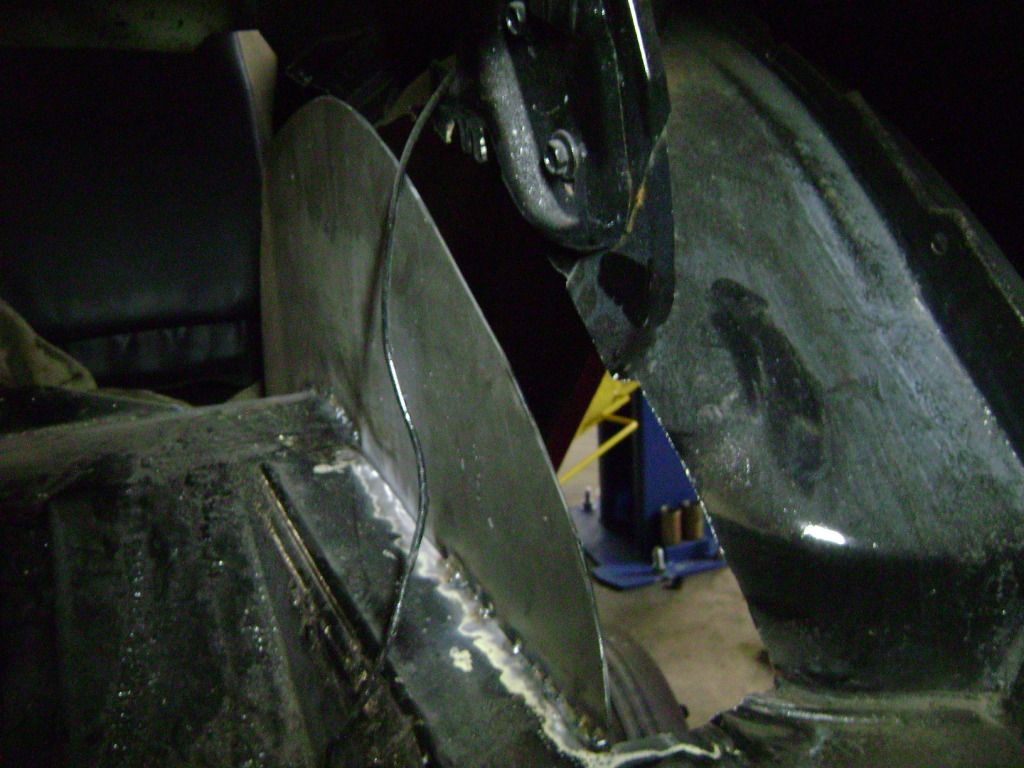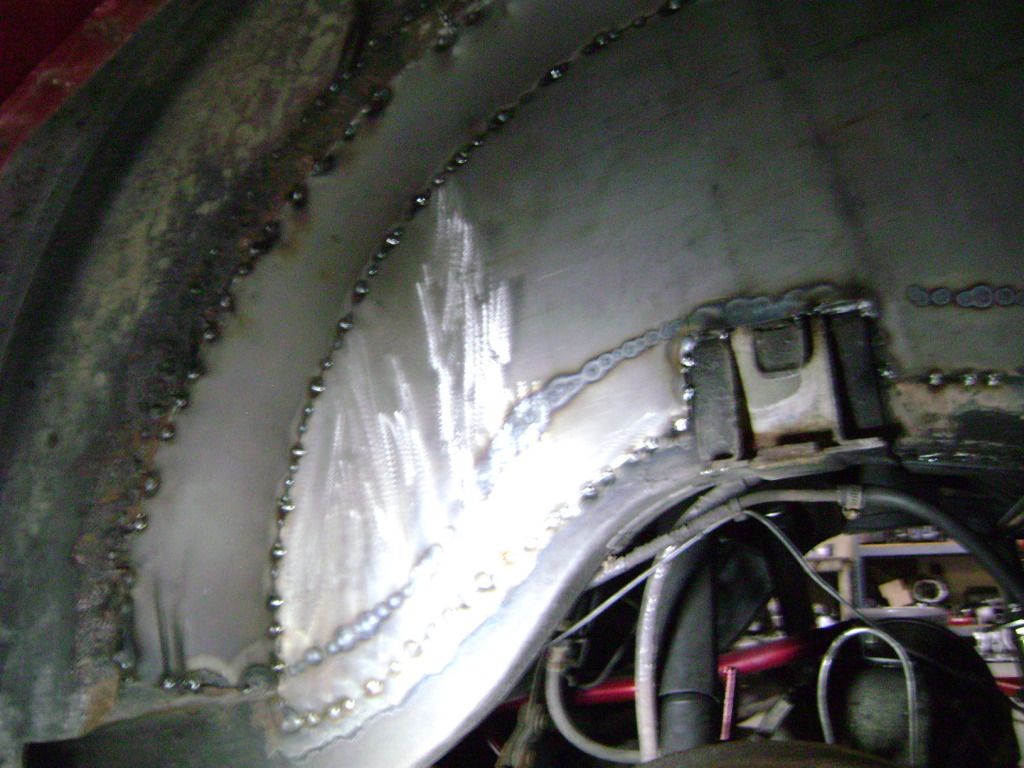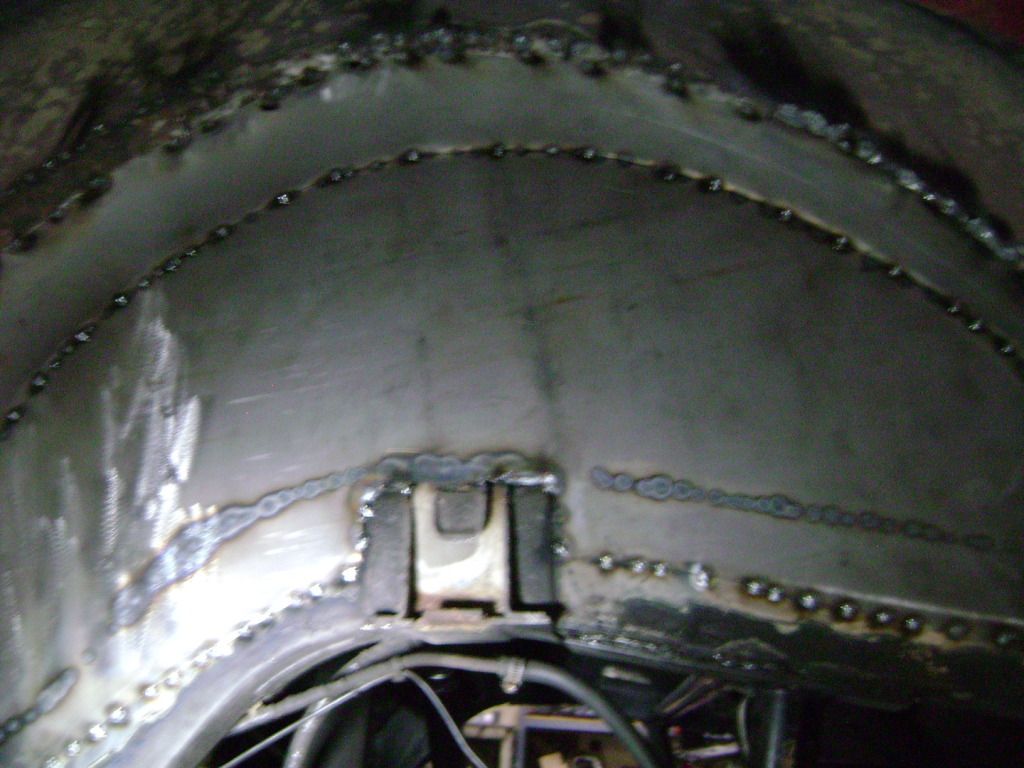 Then looking inside, I didnt like the factory stamped steel rear triangulation. So some quick 1/8" plates and 1" tubing formed the new brace.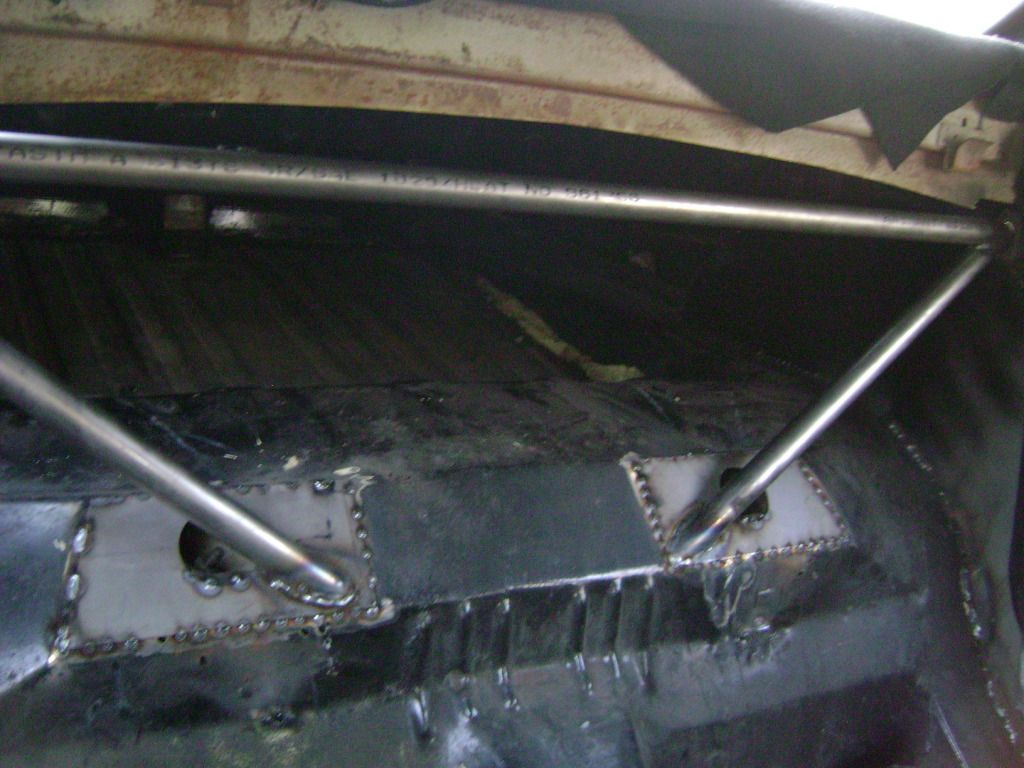 After all that I had to modify the seat backs to fit back in. This car is NOT meant to be a race car. So the interior has to stay. After some work it all fit back together nicely
Here is a pic showing the 315 hoosiers, and finished panhard bar system. Also note the burnout marks next to it. The torque arm works flawlessly with no wheel hop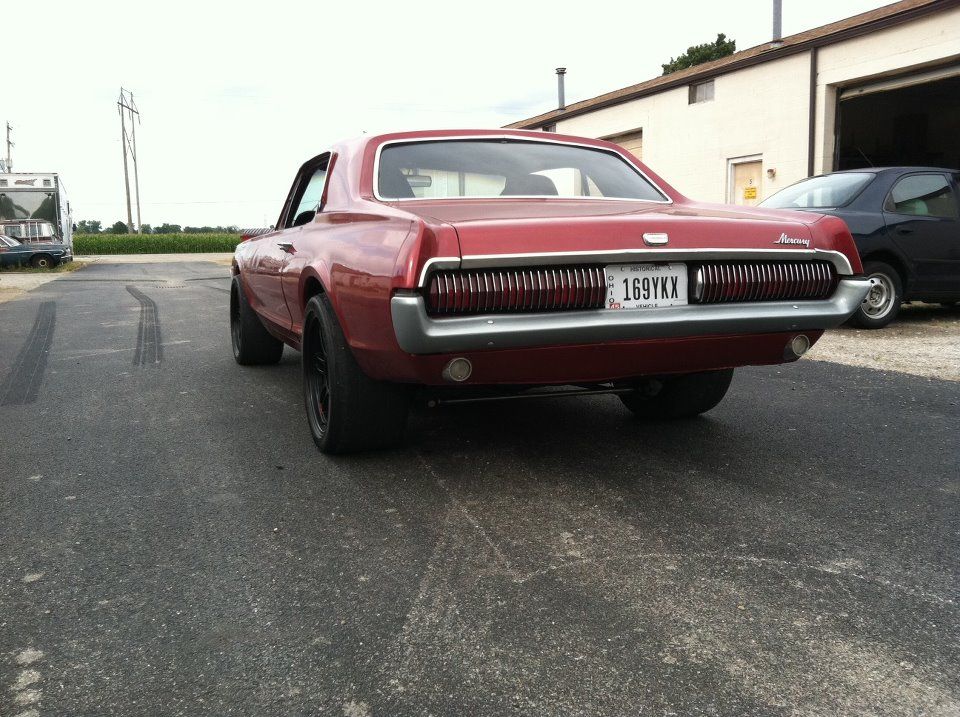 While it looked pretty tough, I am not a huge fan of 18" wheels on a classic. But at least I knew black wheels DEFINITELY were a must. So the Rx7 got its wheels back, and the Cougar was sad again. Luckily I always wanted to see a Cougar with Nascar wheels, and we have access to free used circle track tires. So here is the most recent look of the street terrorizer- Nascar Cougar!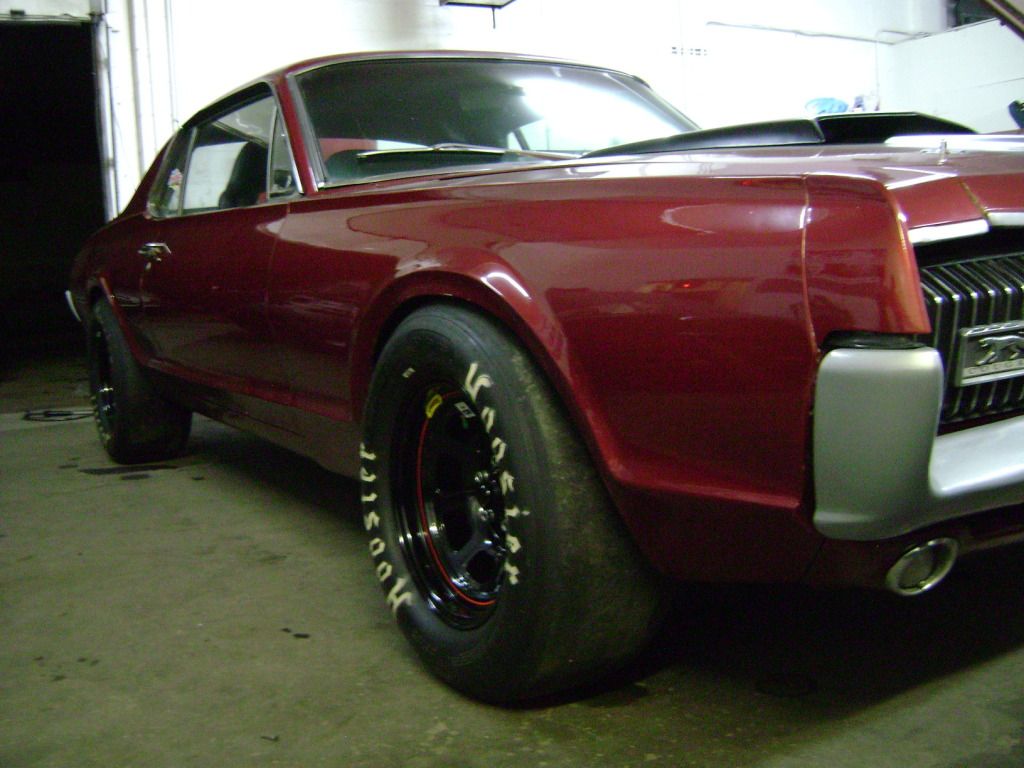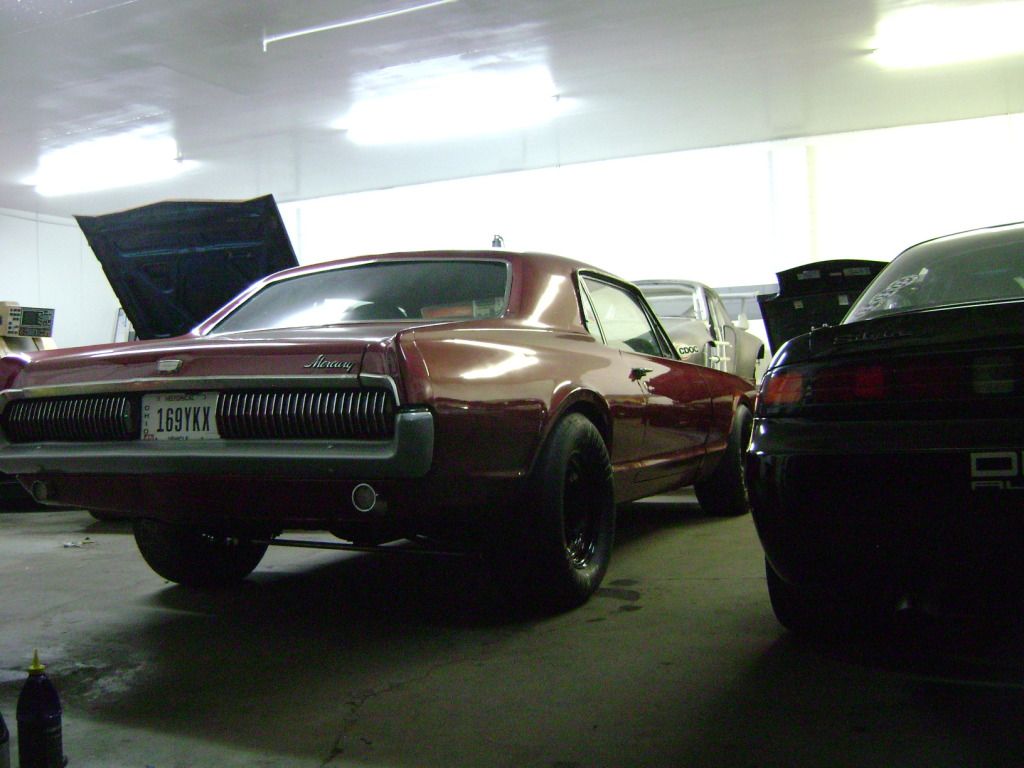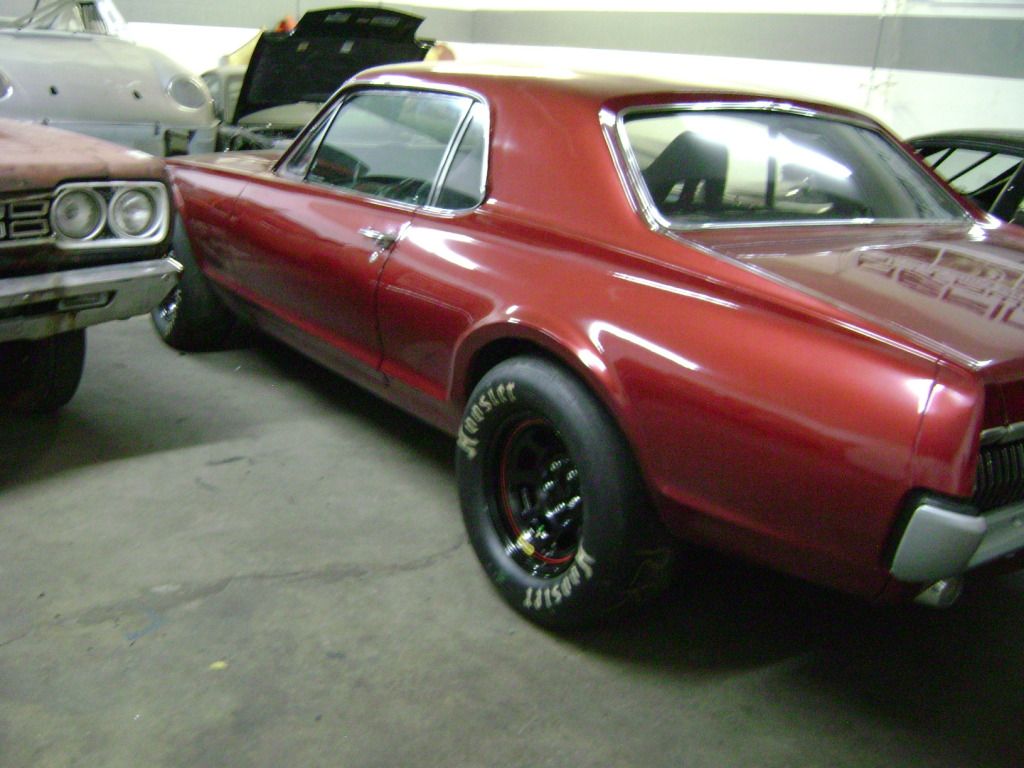 Much better
That is all for now, next will be serious front suspension build, and new engine/tranny!