Discussion Starter
·
#1
·
Finally getting a thread going here to show some of what I am getting done. I will be brief as I have a blog listed in my sig below where I go into more detail, but anyhow, here are a couple of the latest things I have finished up.
First off is one of the hood hinges.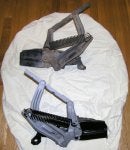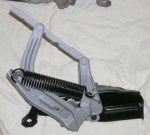 Next is the upper control arm. I had to straighten out one of the bushing holes. It had a pretty good bend in it and wiped out that bushing as a result. But it's all good now!
Now I can do the other sides!
Will post more soon.
Paul
1969 R-Code, 4-Speed, Drag-Pack Cobra Fastback Project
1967 Mercury Commuter Wagon w/mild 429
My Car Restoration Projects