Discussion Starter
•
#1
•
Hey guys! So...some of you all might remember me...I used to hang around these parts on occasion
. I took a long break from cars however, and have just recently caught the bug again lol.
That being said, a little history, then we'll get right into my build.
My first car was a 1970 Cougar (base model with a Cleveland 2v), and my second (first one I actually drove, lol) was a 1967 XR-7 GT. From there I've owned a string of Mustangs (all 67's except one 82 SSP 5.0), and have finally come back around to picking up another Cougar. This time around I found a 1968 XR-7 for a semi reasonable price (actually I got it in trade for a motorcycle lol), and just couldn't pass it up. It was pretty rough lol. There's a couple of small rust spots around the wheel wells, and dented lower quarters (looks like a tire blowout or two). The driver's side is wavy (to say the least), but the passenger side is relatively straight. Most importantly though...it seems to be all there, if in pieces. My goal for it is a daily drivable, mid 10 second (naturally aspirated...no power adders for this guy) quarter mile capable restomod. The theme's sort of 'grudge racer/junkyard dog' inspired. You know...the kind of car that you can't tell whether it was built by a guy who knows what he's doing, or a kid who doesn't have a clue (or in reality...a guy who doesn't have a clue =p). The dents and dings (and even the external rust holes) will stay. The car's getting sprayed satin black. The chrome I can salvage will probably be cleaned up and reused, but looks are absolutely secondary...all of the car's external attraction will come via function.
The engine goals have taken a few different twists (c'mon...this is MY build lol, we all know these things are never linear for me!!)). The first though was a stock 302 based setup with the HO roller cam, and 225cc High Ports from TEA. The power was to be transferred through a stock t5 transmission to the Versailles 9" that came with the car. I'd intended the drivetrain to be built in stages, with the stock bottom end late model 302 being the first transplant.
Anyhow, here's a couple pictures of what I started with: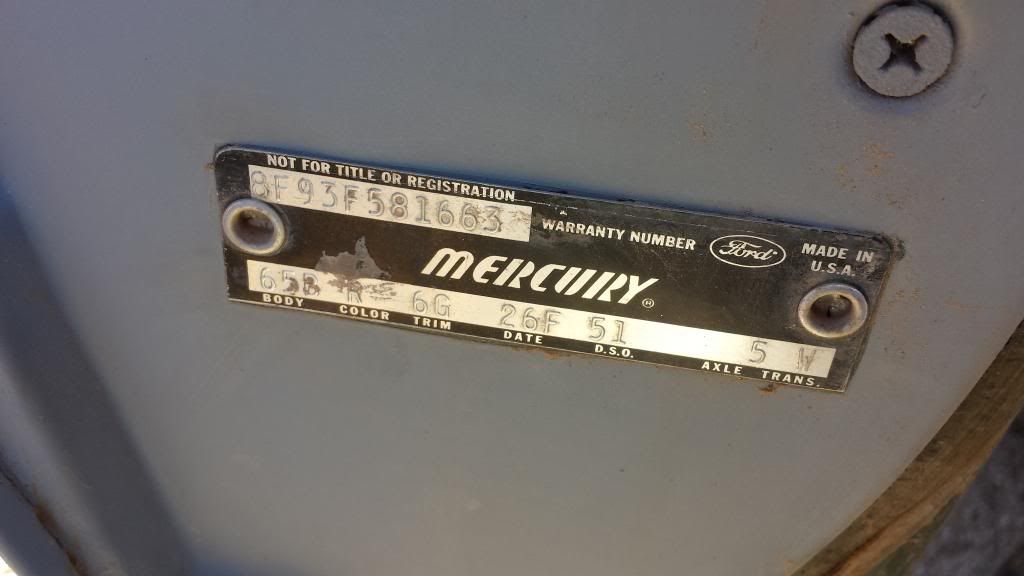 Door tag. It appears my car was a 302 2v powered XR-7 in Augusta green, built in Dearborn, with a C4 and Dark Ivy Gold leather/vinyl? It doesn't have a floor console, and the upper console is a very small one (no pictures of the interior yet).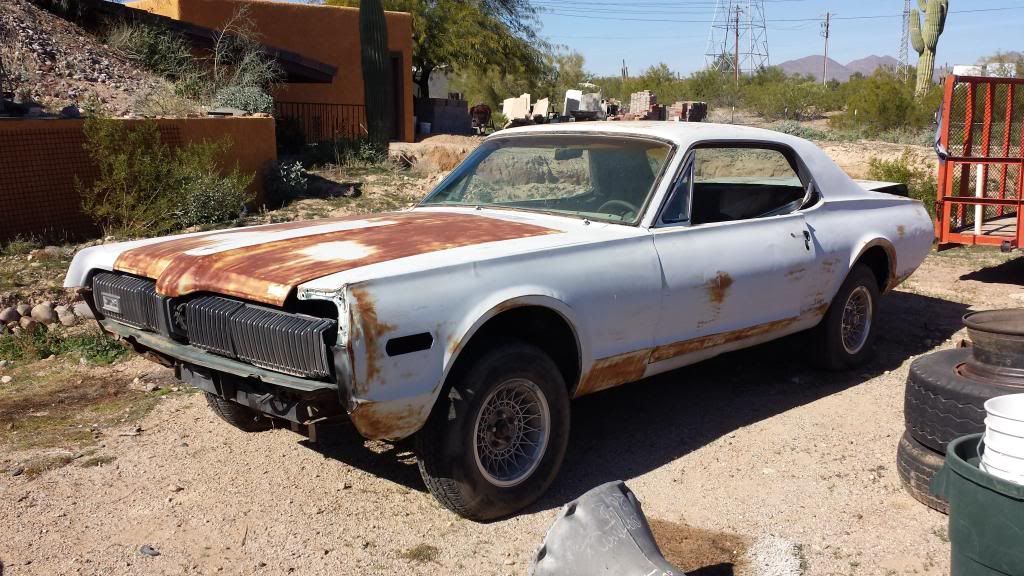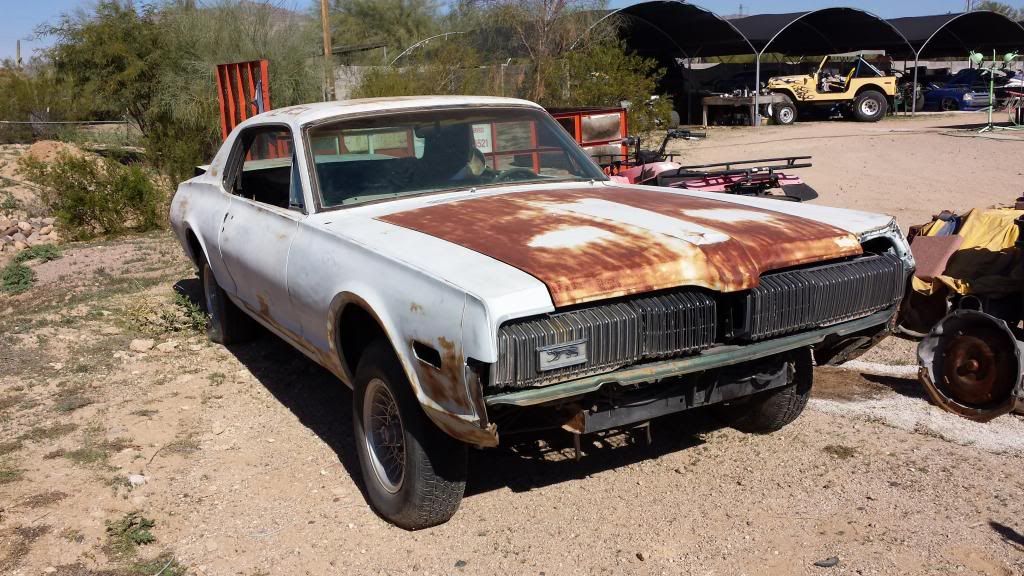 Front view. You can see some of the waves on the driver's side. Bodywork isn't my strong suit, and will probably be the most frustrating part for me...well, assuming there's no wiring issues, lol.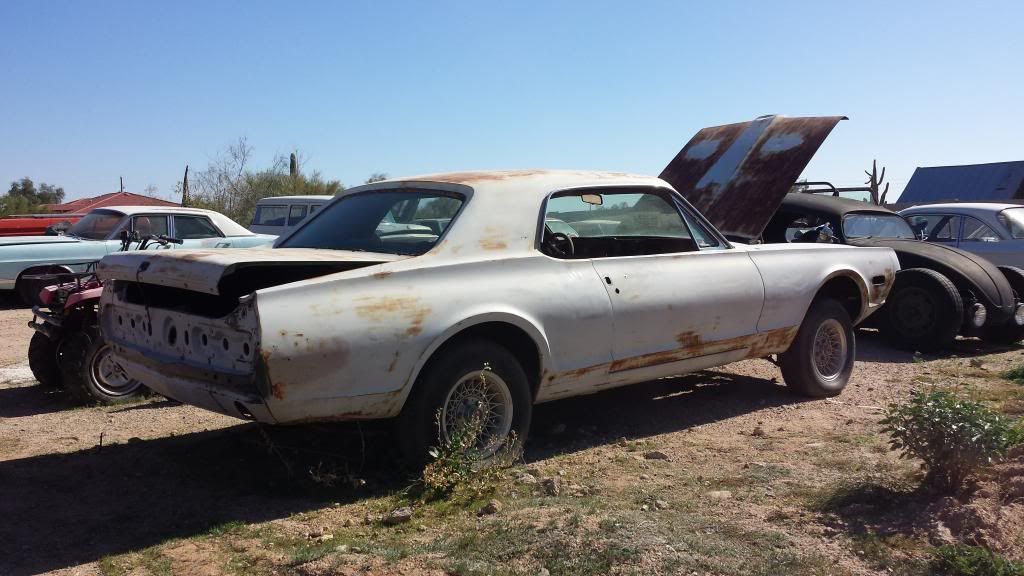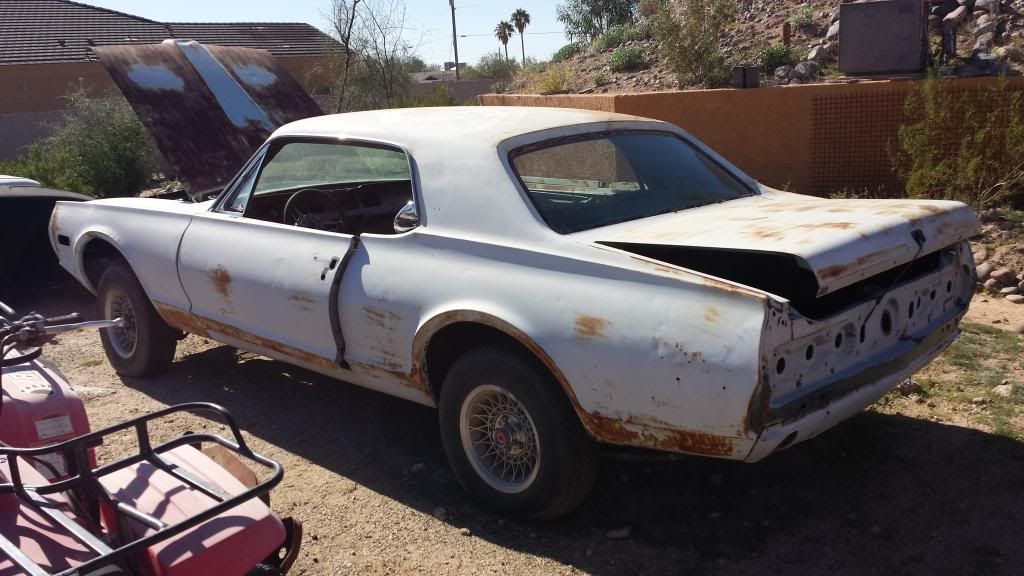 Back side. You can see more ripples on the driver's side. I remember from my first Cougar that those compound curves are REALLY fun to get straight lol.
Interesting tidbit...as I said, the car came with a 9" disc brake rear end (front discs too). It also came with a 'rebuilt' (we have yet to see the truth here) DOAE 351W. For me though, the big Windsor is a boat anchor...so it will be sold or traded off pretty quickly.
So, to clarify my goal here...I'm building a daily driver capable (for me...I've learned my tolerance level is higher than most others lol) car with a serious amount of kick. I'll work on the drivetrain and general interior first, with the only real nod to the exterior being getting it all one color as things continue. I know that's semi backwards...but it makes sense given my goal, and that I want the car drivable asap, so I don't lose interest. I've never completed a project that I worked on that wasn't drivable lol. I doubt that's changed much in the last few years =p.