Discussion Starter
•
#1
•
I thought people here would be interested in a build I did this summer, and I intend to follow it with it's sister build, a very similar engine with Trick Flow Heads and additional tricks afterwards. Some neat stuff in this engine. Iron heads, intake, block, distributor, all 68.5 Cobra Jet. SCAT crank and rods, with Racetec's Autotec pistons with 1.5/1.5/3.0 mm ring set, a very carefully prepped block, CnC ported heads and the intake very heavily worked. Note this is a hydraulic roller with 16 inches of vacuum at idle. It could have been much stronger at the peaks, but the owner wanted something that looked and sounded like a CJ, but performed significantly better.
Both engines are slated to go in resto "Day 2" Mustangs, the all iron version going in a factory 68.5 CJ 4 speed 4.30 geared coupe, the Trick Flow verson going in a factory 68.5 CJ 4 speed 3.50 geared fastback running 3.89 gears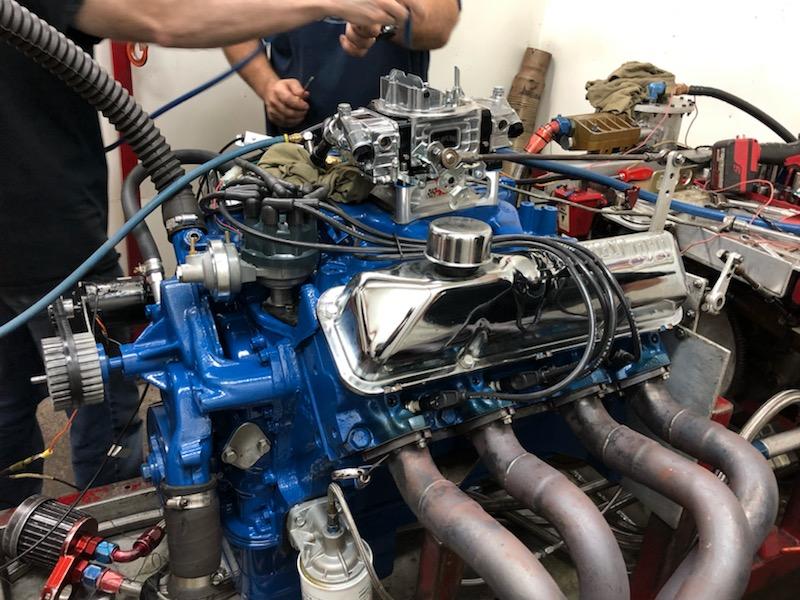 Performance Summary:
Cubic Inches: 461 Dyno brand: Stuska
Power Adder: Where dynoed: Dale Meers Racing Engines
Peak Horsepower: 515 @ 5800 (520 with dyno carb)
Peak Torque: 530 @ 4500 (536 with dyno carb)
Horsepower and Torque Curves: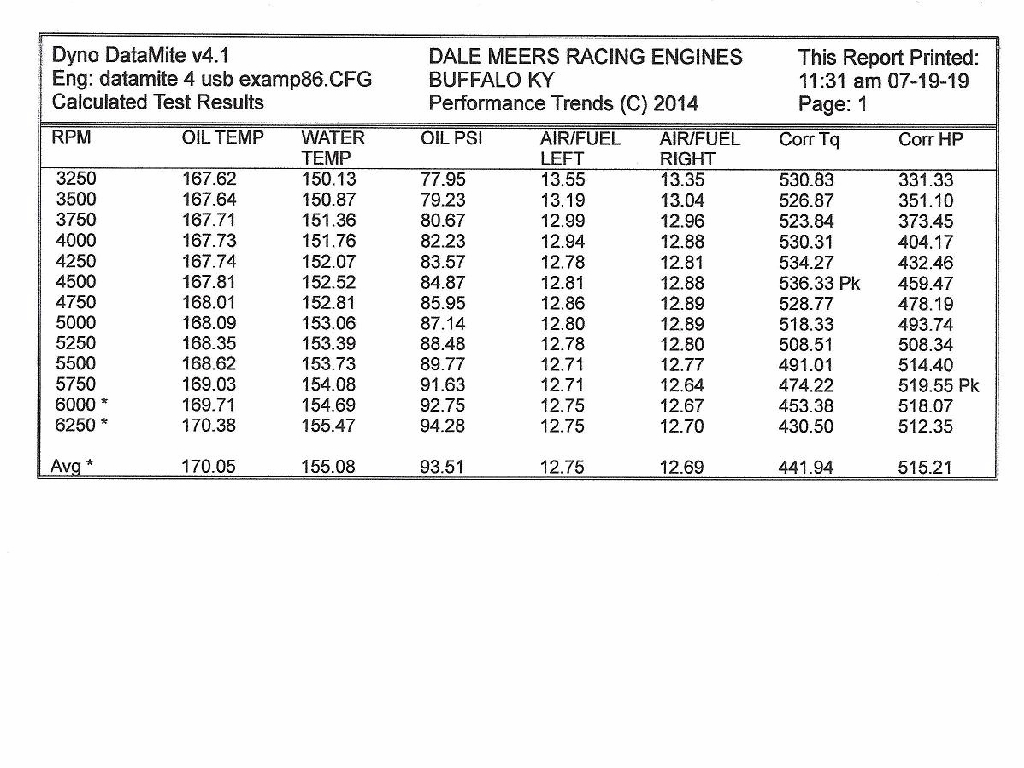 Engine Specifications:
Block brand, material, finished bore size, other notes: Factory C scratch 4.155 bore, squared, deck plate honed, 10.155 deck
Crankshaft brand, cast or forged, stroke, journal size: SCAT cast 4.25 stroke
Connecting Rods brand, material, center to center distance, end sizes, bolts: Scat I-beam, 6.70"
Piston brand, material 4032 forged Autotec, 7.5cc reliefs, SCR 10.4:1, .005 above deck
Main Bearings, Rod Bearings, Cam Bearings brand and size: FM 125M, FM BBC uncoated, Durabond cam bearings
Piston rings brand, size, other notes: Hastings hi performance, standard tension 1.5mm/1.5mm/3.0 mm
Oil Pump, pickup, and drive: Melling HV, Milodon pickup, Doug Garifo drive
Oil pan, windage tray, oil filter adapter: Mildon deep sump, Ford windage tray, factory Ford oil filter adapter
Camshaft brand, type (hyd/solid, flat tappet or roller), lift and duration (adv and @.050"): Custom Comp Cams hydraulic roller, 237/237 @ .050", 114 LSA, 106 ICL, .634/.634
Lifters brand, type: Morel standard travel
Timing chain and timing cover: Cloyes billet, factory Ford cover
Cylinder heads brand, material, port and chamber information: Fomoco original CJ with Craft CnC port, 83cc chamber
Cylinder head flow in cfm at inches of lift (28" H2O pressure drop):
.200 149 113
.300 224 144
.400 271 175
.450 284 182
.500 292 190
.550 307 199
.600 314 204
4.155
No pipe
Flow bench used, location: Craft Racing
Intake valve brand, head size, stem size: SI stainless, 2.200", 11/32"
Exhaust valve brand, head size, stem size: SI stainless, 1.700", 11/32"
Valve springs brand, part number, specs: Comp Cams Beehive 26120,
Retainers and locks brand, part number, specs: Comp Cams Steel 795, locators 4696, locks 630
Rocker arm brand, type (adjustable or non-adj), material, ratio: Lykins non adjustable rollers
Rocker shafts and stands, brand, material: Sealed Power replacement shafts, stock alum Ford stands with Doug Garifo end stands and studs
Pushrods brand, type, length: Trend custom 5/16 ball/ball oiling
Valve covers, brand, type: Tony Branda repop PBF chrome
Distributor brand, advance curve information: Fomoco CJ resto by Tim O,Connor, Accel Points Eliminator , 36° total, by 2800
Harmonic balancer brand: Factory CJ rebuilt by Damper Docs
Water pump brand, type (mechanical or electric): Ford
Intake manifold brand, material, porting information: Ported, iron CJ
Carburetor(s) brand, type: Quick Fuel 830 Brawler out of the box just jet change (dyno carb was custom built 830 no choke)
Exhaust manifolds or headers brand, type: Dyno headers
Here is a teaser for the next one, should dyno in November. Differences include the Trick Flow heads, a worked PI intake, 1.0/1.0/2.0 mm rings, much lighter components, and a custom 780 QFT carb, should be a very interesting build as it added significant airflow with a much smaller port cross section. Note: We milled the name off the Trick Flows as the engine will be painted and wearing full CJ externals in an attempt to look sorta stock, but as I said, will be a "Day 2" build with headers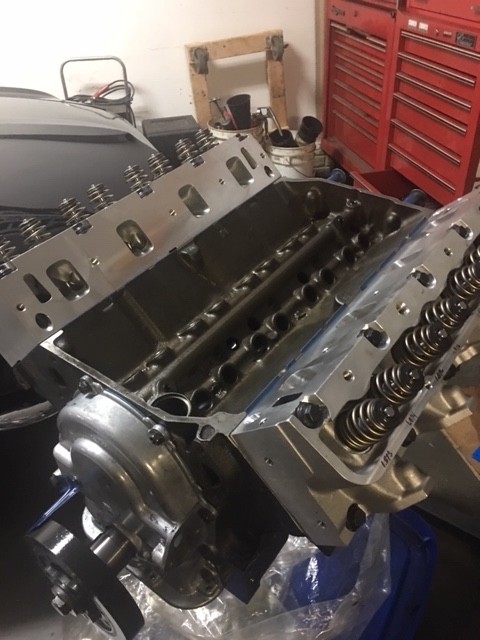 Of course the Mustang behind it is my own, thats a 489 EFI, TKO-600, 4.11 70 fastback, one of these days that old girl will get a Paxton or Torquestorm supercharger, but it is just too happy a combo now
nothing but a periodic oil change and fill it with fuel since 2006