Discussion Starter
·
#1
·
We've recently overhauled our bi-monthly newsletter and packed it full of more ways to save, giveaways and special offers! These great offers are only available if you sign-up to receive our newsletter!
Here is a sample of what you are missing.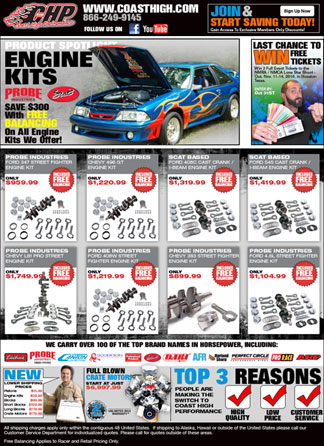 Coast High Performance is quickly becoming the number one choice for customers across the globe who need horsepower related products. There are a number of reasons this is happening, but the top 3 are simple:
• Highly Competitive Low Prices on High Quality Brand Name Products
• Industry Low Shipping Rates
• Personal Customer Service
If you like to overpay for all the brand names in horsepower, than please do not visit our site. If you want to be treated like a human being, get great prices on products like Short Blocks, Engine Kits, Pistons, Crate Engines and more.. than come check us out.
Times are tough. We recognize that and are doing everything we can to provide you with the products you need at the best prices.
Click Here to Sign-Up Today