Discussion Starter
·
#1
·
I may put my fifteen year old "ugly son" in charge of this one ... It might be time he learned a thing or two
This is all "Left Overs" I couldn't see giving away ...
I already have much of what I need to get the short block together ...
Need to select a nice Torquey Hydraulic Roller Cam ...
Will end up with a set of Aluminum Heads (most likely Edelbrock) ...
Compression should show up a little over 10.0:1 (no real calculations yet) ... I just got the block back from Fultz's Machine Shop yesterday (Dan at Fultz's machines all my motors, then I put them together).
Hoping to set it behind a Five or Six Speed Manual Tranny in a Cobra Kit Car.
Time will tell ...
_________________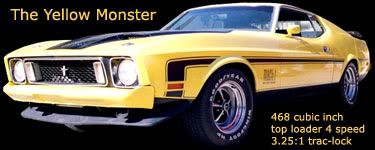 <font size=-1>[ This Message was edited by: MonsterMach on 4/30/06 8:10am ]</font>