I've had quite a few personal messages sent to me over the last couple of months, so I thought I'd better do a new thread on the disc brake conversion.
Back around early December, I had a feeling that I would be going to the later disc brake swap, so I started preparing the used components I had. I bought and parted out a 1971 Galaxie many years ago, and fortunately I kept the complete stub axle assemblies from that car in case I would ever need them one day. That day came in early February when I fitted them to my 1963 Galaxie.
It is far easier to have a complete stub axle assembly ready to use.
If not, you will need the following:
Stub axles.
Calipers.
Brackets to mount the calipers.
Bolts to mount the brackets to the stub axles.
Caliper hardware including new pads.
Disc rotors.
Bearings, seals, nuts, split pins, caps etc.
Dust shields. (if you want to use them)
I removed all the existing previous Chevy brake kit which was there. The ball joints and tie rods were a bit of a bummer, but ended up being separated without too much drama.
Time to fit the replacement Galaxie stub axles.
Below are the stub axles and brackets which I had prepared earlier.
Everything fitted up nicely. Almost a straight fit apart from grinding a few mm from the top of the tie rod arm on the stub axle. This was so the castle nut on the tie rod would wind on far enough for the split pin to go through. The '71 stub axles are a little thicker overall and in this area where it needs to be ground.
I also noticed and measured, that the actual tie rod position is now 15mm (approx 5/8") further outboard compared to the '63 stub axles, so I had to adjust the tie rod sleeve to suit. That way it was pretty good while testing, before it gets a wheel alignment.
Here it was with no damn mild steel plate like on the previous conversion! Looks factory now.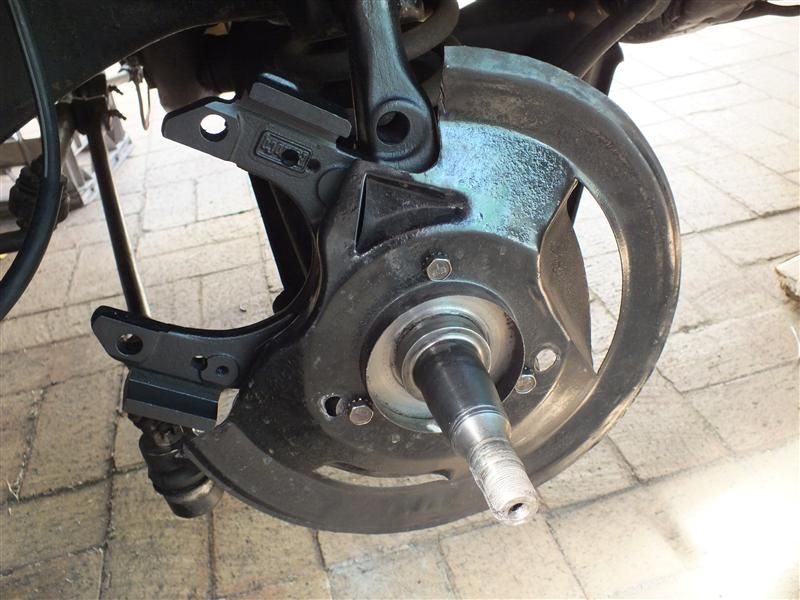 To fit the rotors, because the stub axles are thicker than those on the '63, I had to knock out both the small inner and out bearings with the help of a BFH. Luckily my previous kit used '71 Galaxie rotors and came with two sets of bearings, so I had some brand new parts to use.
Then the same thing to knock in new bearings back into the rotors. It took a while, but it got done.
Greased and fitted everything up.
It looked almost just how it should have been done from the factory.
As for the calipers, they are the 40 year old original ones. I also worked on them previously. I disassembled them, cleaned them, and blew them out several times. I even used the original seals and dust covers. The seals seemed to be slightly stretched, but were in pretty good shape. I assembled the calipers, tested them, and they held pressure.
Luckily the banjo fitting on the brake hoses from the other kit fitted nicely onto the Galaxie calipers.
Here it is all test fitted while I was waiting for new brake pads and slide pin rubbers to arrive.
Pads and rubbers arrived, fitted up all the used hardware, and I was just about done.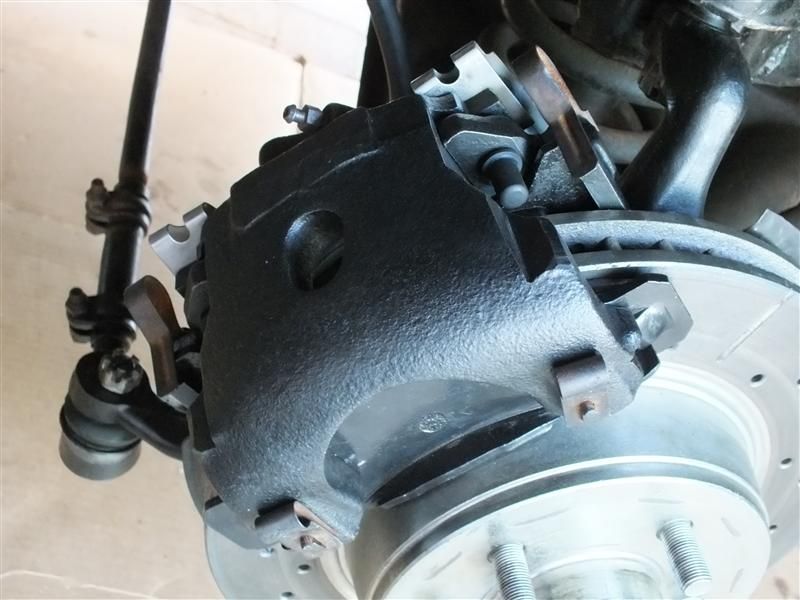 Up top, the master cylinder from an F100 was previously fitted.
Everything was bled and adjusted, but I had slight pedal problems.
I still didn't have the pedal pressure and short throw that I was after, but the brakes were working.
After visual inspections and more bleeding and experimentation, I found that the rear brake drums were oversize, yet my shoes were not. Back to the brake shop to get the shoes bonded with new oversize shoes. Everything at the back end was now correct.
A few more bits of fine adjusting and I am very happy to say that my brakes now work very nice.
The pedal has a good feel about it, and I need to push pretty hard on it (being unboosted), but it isn't a problem.
With a good hard and high pedal, it was simply a matter of driving the car and not even worrying about the brakes. I drove it through the industrial area near my place, applying the brakes fairly lightly for a while, then once in a while I'd hit them hard. It'll lock the brakes now, and it'll pull up nice and straight.
I'm happy.