Discussion Starter
•
#1
•
yeah there are pics here and there of it, but hey. i thought its time for a progress thread.
its been a long hard brake job for the car. went to do the front brakes and bought all my parts ahead of time. turns out that everything they gave me was wrong. the Calipers looked like the only right parts. after returning things, and waiting two weeks for them to research, i had the right rotors, and wheel bearings.
brake hoses were non existant, and another week went by before i found out they werent made by anyone. Dearborn Classics makes then but they were on manufacturers backorder and $60 each for rubber hoses. ouch. i found a guy at school that happens to have a business making hoses. (high pressure, A/C, P/S etc....) and he made me some stainless braided ones.
so i got all that now, brake pads and other stuff. ARP wheel studs (3") and i assembled it today. well, i thought my banjo bolts are wrong, but they just needed to be cleaned and chased. that was after i took off for the day so that cost me more time.
in the meantime, this is the only brake job ive ever done thats taken 2 months.
Ive got my 17x9 Steelies on with 285/40 17 tires, and have my 17x7 fronts ready to go in a few days. they will have 235/50 17 (hey, i like my oddball sizes)
Virtually no progress has been made as far as bodywork, mainly because the car has been on stands for most of the brake job and i cant move it. heres pics i took today...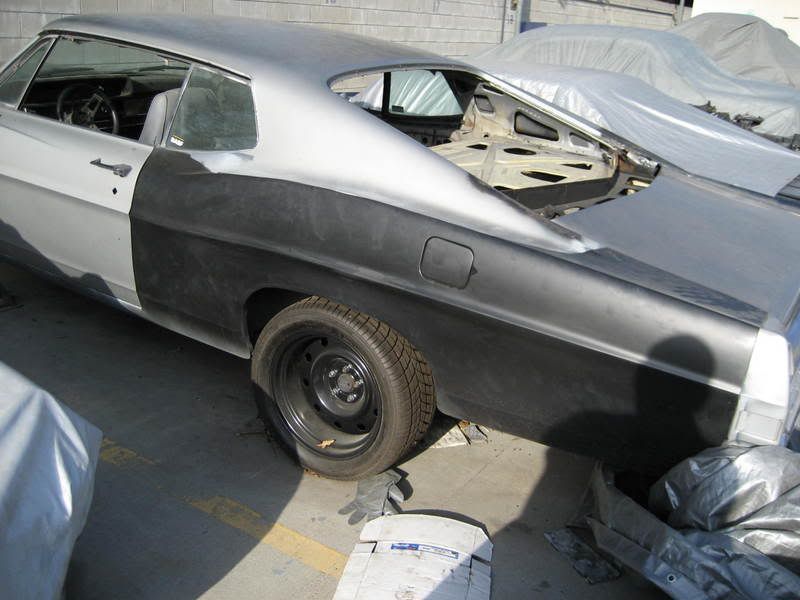 my stainless brake hoses... im gonna get the rear hose done too.