Discussion Starter
·
#1
·
Out of every leaf spring car I've ever seen at the track, I have never seen one react like mine does. Whenever I hit it, the rear end rares up and stays up until a gear shift, then it drops a bit, and rares right back up under power.
I'll post some videos that I've taken over the past year or so but first, here's my setup.
-351W with a World Class T5
-aluminum driveshaft
-Nodular 9" 4.30 28 Spline Detroit Tru-Trak
-255/60/15 Drag Radials with usually 17-20psi
-Caltracs (about a full turn of preload on both sides)
-9-way adjustable Calvert Racing shocks (setting: driver #6, pass #8)
-slap worn out stock leaf springs
Here is the link to all of the videos of my car.
Pictures by hepcat351 - Photobucket
The rear of the car is not supposed to come up is it? Unfortunately I've had very little time to play around with the rear suspension of the car as I only make it to the track maybe 3-4 times a year. I have tried to go both ways with the shock setting and I've only been able to make it worse i.e. spinning and a slower 60'.
I'm going to try and make it out to the track hopefully sometime toward the middle of May, if school and work permits, and I'd really like to have an idea on what to look at to get the rear end planted, shave my 60', and possibly get both tires off the ground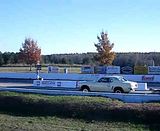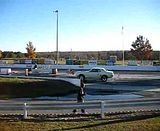 Thanks in advance to all you guru's out there!