Discussion Starter
·
#1
·
The 2012 race season has begun!
I went to the first race of the year at our local track on Friday night. Although the weather channel called for rain, the sky was a nice blue when I got off of work and I knew we were headed to the track. I unloaded the car and ran an 11.08 off the trailer which gave me a big smile. Then the clouds moved in and we had a light spitting of rain. It wasn't making the track wet, so we kept running and I got in a couple more qualifying rounds. Since the weather had changed, the times slowed down nearly a tenth in the quarter.
We started the eliminations early, with the hope of not getting wet. By the time the big rains came, I was semi-finalist in one class and a finalist in my beloved stick class. I also was to run the same guy in both classes. All those racers who were still in eliminations were cashed out so there won't be a rematch.
The best race of the night for me was this one-which put me in the semi's: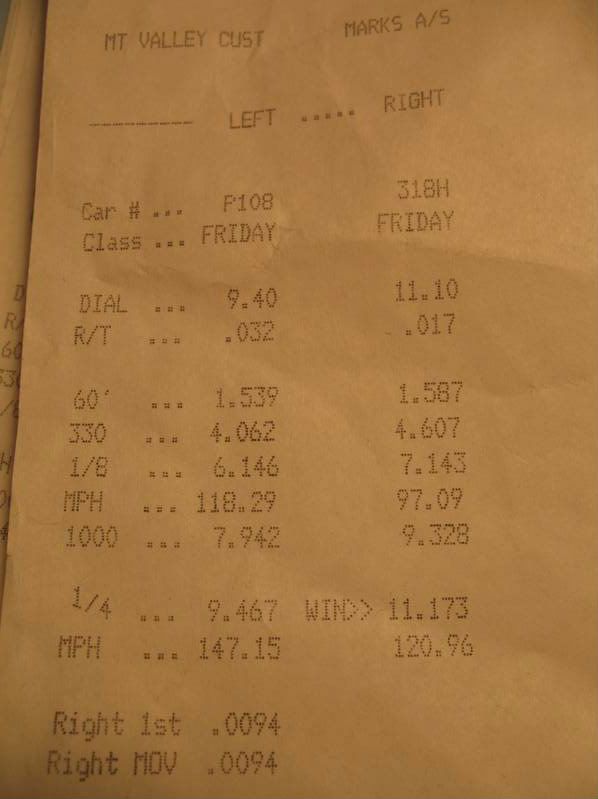 MOV was a mere 1.67 feet (.009 seconds.) I must say that I left off a little at the stripe when I saw the LS1 turbo Z240 in my rear view mirror and it almost bit my ass.
I can't wait until next week's fun!