Discussion Starter
·
#1
·
This is an annual show here in Vegas ... I was a tad late getting onboard ... just too consumed with the Fall Colors Show in Bishop CA in two weeks I suppose. Queenie clued me in a couple of days ago.
We will be taking Queenies Camaro to the Bishop Fall Colors Show, so I decided (at the last moment) we needed to get "The Yellow Monster" in the Super Run Show this weekend.
I guess the point is ... I'll see if I can get some decent PICs of some Las Vegas FORDS up on the board here this weekend.
Maybe I can get DD out with us if he doesn't go to Disneyland
OH ... T-Shirts are on the way to Virginia ... (that's code) for most of you
_________________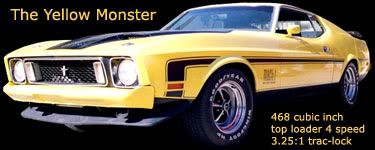 <font size=-1>[ This Message was edited by: MonsterMach on 10/1/06 10:33am ]</font>