Discussion Starter
·
#1
·
Last time I was at the track, I let my buddy drive my car and for whatever reason he side-stepped the clutch and it came out of 1st. Next pass, the car jumped all over the place.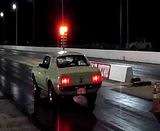 The car was way out of shape partially because he was out of the groove..too far to the right.
Initially, I thought the tranny mount was busted because it looked pretty tweaked. Put a new one in and same thing..bad vibration around 45 mph or 3rd gear @3500.
I jacked the rear end up and let the clutch out in 1st to see if anything was bent. The driveshaft looked like it had a little bit of runout in it so I pulled it, took it to the driveline shop, and they said it was tweaked. They had to add some weight to the front and rear of it. Put it in and still got the nasty vibration.
I was thinking maybe a bent output shaft? When its in gear and cruising, you can put your hand on the shifter and it shakes at that same high frequency the vibration. Even if I push the clutch in or shut the engine off at speed.
Any ideas? Thanks guys.