Discussion Starter
·
#1
·
Heyya all. Finally got some new wheels/tires for my 66. Ive been wanting to do this since I bought it 9 years ago!
Next is some suspension work to reduce some of the wheel gap thats present. Going to rebuild front suspension, add urethane bushing, relocate upper A-arm, and put in new coil springs.
Here is a before pic. Kind of a bad pic, but you can see the 14x7 American Racing's it had on it before.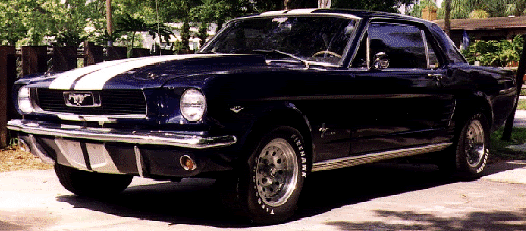 Now heres a few quick pics I shot after the install.
Their 17x8 2003 Cobra Wheels. With 235/45/17 Falken 512s on front and 245/45/17 Nitto 555R's on the rear.
_________________
_________________________________
slammed '04 RX-8 (daily driver)
stroked '66 Mustang (weekend fun)
<font size=-1>[ This Message was edited by: pass1over on 5/23/06 10:17am ]</font>