Discussion Starter
·
#1
·
http://www.crossracingproducts.com/servlet/the-template/about/Page
OR
http://www.ahmperformance.com/
I paid 199.99 via Money Order to these guys for the pistons we talked about on this thread two months ago ... they will not ship and owner Chris Crossont will not come to the phone to assist in any way ... I have called them daily for the past five weeks.
They acknowledge reciept of the money order.
They were booted off eBay in "mid transaction with me" and even though they were paid in full ZERO Pistons.
Below is the original thread ---------------------------------------------
I have some 351C parts I have been going to put together for a while ...
My problem revolves around the pistons which are Plain Jane cast "builder grade" pistons.
I mounted four pistons up in the bores and was disheartened to see that they sit about .065 in the hole. Way too far for my tastes.
I did my best to measure thier "compressed height" which appears (to my measurements and calculation) to be approx. 1.62"
In looking up some KB Hypers (the same pistons I used in the Nasty 351C I sold to Brian about a year and a half ago) they show a compressed height of 1.67"
Do those numbers (especially the one I measured) sound to be in the correct ball park ... assuming I'm not making a mistake on my end the 1.67 KBs would chew up most of the "in the hole" problem.
any informed input appreciated.
_________________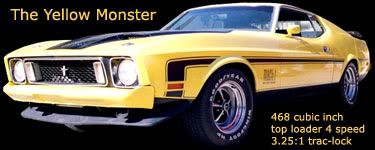 <font size=-1>[ This Message was edited by: MonsterMach on 11/9/06 9:30am ]</font>