<<<pasting backup of the 'online diary' I kept on our 65 Galaxie project back in 03/04...AOL shutdown their pages, now the old lovefords forum is closing, figure FM might be the safest place to park this old story...dunno who might want to read about a rusty old 4 door, but I ate enough rust and type slow enough, I'd hate for these old pages to fade away just yet...just a few pages of text, but I got in soooooo far over my head on this thing, it still amazes me we got it back on the road again... I'll try to repaste the pics back in their relevant spaces eventually, will put them in photobucket this time so its easier
>>>
9/07/2003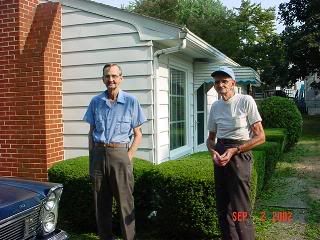 Saving a 1965 Galaxie 500 LTD...
My 76 year old neighbor(pictured above with his brother) was very ill last year, and was afraid his daughter would end up 'stuck' trying to get rid of the old Galaxie that had been stored most of the time since '78...hadnt been moved in a couple years.
He said he wanted me to have it as he "knew I would take good care of it". Well, I had hoped to just re-do brakes and Carb/fuel tank to get it roadworthy, then give it back, but when doing the brakes, noticed nasty looking rust on one of the front torque boxes: Oh-No, another Ohio ford with a rotted frame...jacking the car several ways without breaking anything told me it was suprisingly still fairly strong, figured good enough to at least let him take it for a short spin- but knew some ugly work was ahead.
Got the car running, drove the 200 feet from my house to his, got him to come outside to take it for a spin- a quick trip around the block brought a smile to his face(hadn't been out of the house more than a couple times in as many months).
Well after driving the car the 200 feet back home, went ahead and took the garden hose out and started rinsing off the underside- rinsed out about 30 pounds of "shale" looking steel- the entire frame was so shot you could easily remove a handful from just about anywhere without much effort. Didn't mention to my neighbor for fear of upsetting him- this car was his pride and joy, bought it new, neighbors said he washed it EVERY TIME he drove it. 38 years old, not a single door ding. Everything was 100% original except for in the early 70's a friend of his had a 65 Mercury break a frame- as a precaution he took his and had the side rails reinforced- good thing, as there wasnt anything else there...also he had some rust starting on the lower quarters, he took it to a body shop to have the lower cut out and repaired- bad idea as the body shop did what 'they' wanted- not what he wanted...they put a half quarter OVER the rusting original, and did a poor job of painting it. Other than the quarters, the car still has original paint, and it looks a mile deep. To him this car was like my old mustang is to me- I know it wasn't easy for him to give it away, he just didnt want to see it get torn up by someone that wouldnt take care of it.
The car went in my garage where it sat covered until this summer- My neighbor was doing much better, and I had been dropping hints that I needed to do some patching underneath for safety reasons...by summer I had worked up to telling him the frame was really bad and the body had to come off to do what was needed. Heres some pictures of what it looked like when the body was off to check it out...and the fun begins...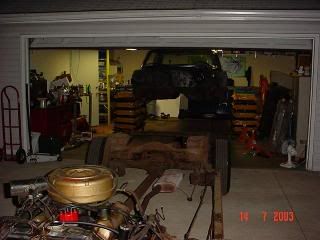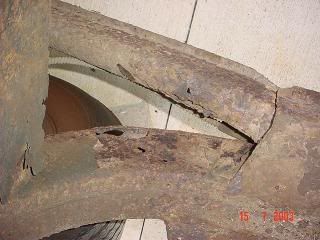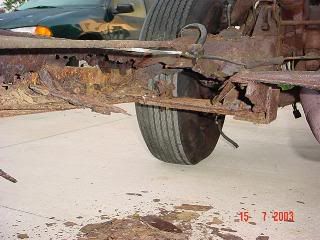 As you can see, this car was toast. Had it not been a gift, from someone that it really meant a lot to, I would have scrapped it long ago...as it was though, I felt obligated to at least do my best to try to save it. Calling around, found a frame in Arizona, but cost of transporting was very high, with no guarantees it wasnt rotting from the inside out(as they just about all did), so decided to make new sections as needed...my boss is also a good friend of mine, and let me to use the plasma/welding equipment at work after hours to put the heavy stuff together- thank goodness, as I had no idea how much work was going to be put into this thing- and what a mess it makes...150 bucks for some sheet/tubing from contractors steel, and that was the end of my free time this summer- rear rails and torque boxes fabbed from 3/16 plate, side rails from 2x4x1/4 tubing(yeah- a bit heavy) new control arms picked up when on vacation in Colorado to replace the holey ones, a few weeks later, it was finally a roller again. Part of original frame from torque box forward, and rear crossmember were all that was solid(plasma cut front little by little until full thickness metal was found).New front torque boxes have one piece bottom that extends from rear of spring hole to end of transmission mount extension, also plated outer frame, but didnt fully weld perimeter for fear of causing cracks in corners- instead cut several round holes, and welded around inside of holes- filled with seam sealer, and seam sealed perimeter to keep moisture out. POR-15 painted everything inside and out, repainted inside torque boxes after welding before top went on, so only thing not coated is welds around top/inside- hope to spray up in later. Heres some pics of the frame: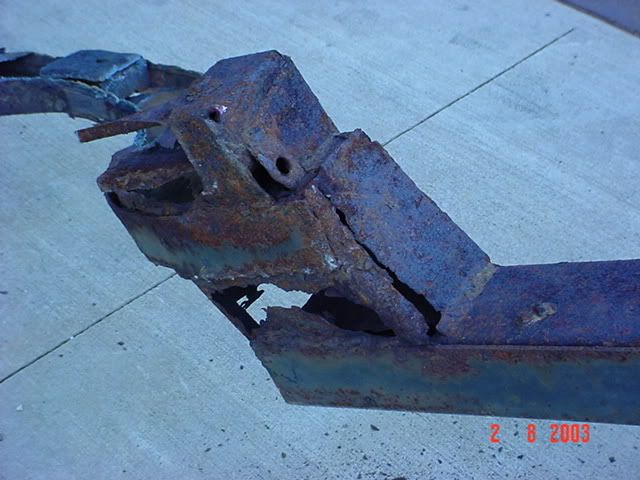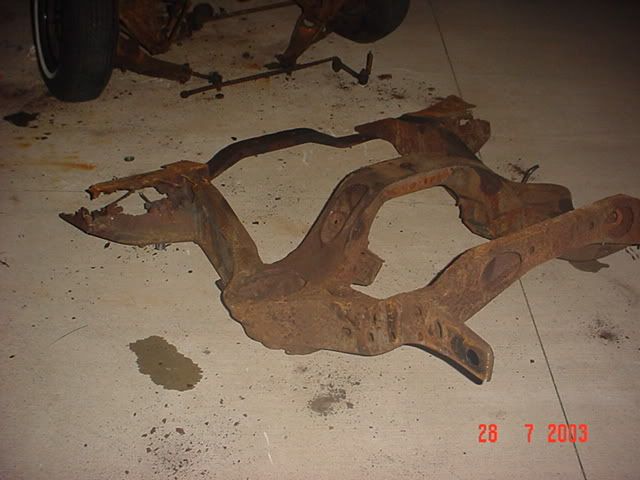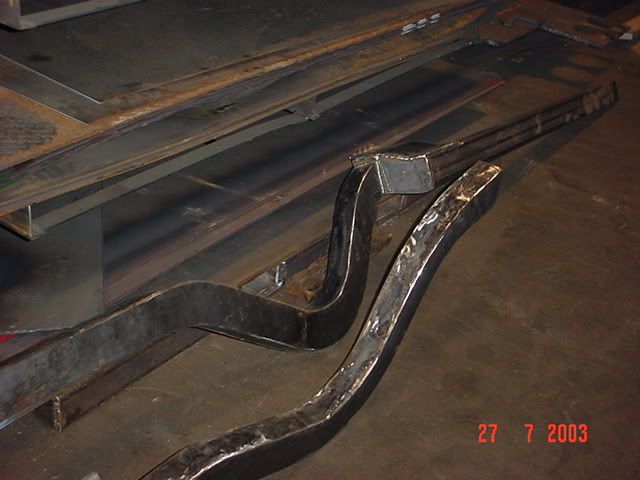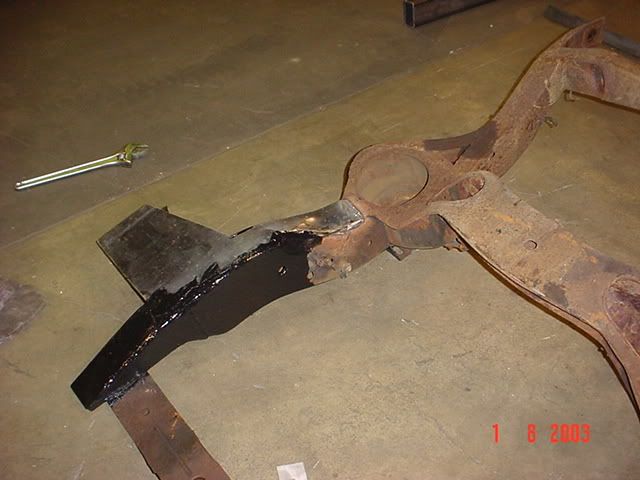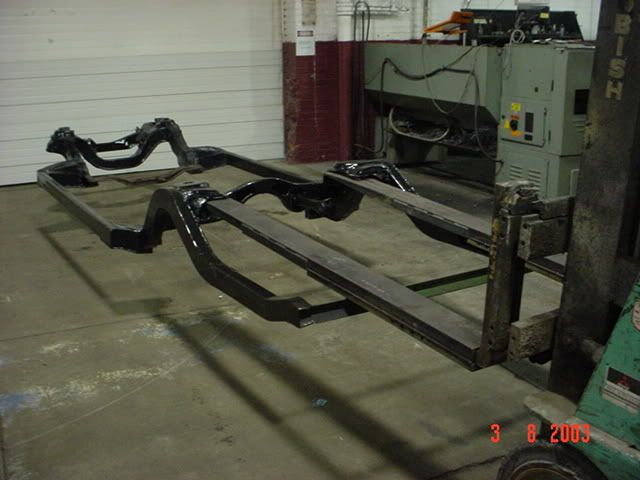 Well today is 9-7-2003, got 3/4 finished today (second day) stripping off undercoating-by far the filthiest job I have ever done...using knotted wire wheels on a 4 1/2 inch grinder...disposable tyvek clothes and shoe covers, stocking hat, face shield, earplugs, tarps under/taped around car to catch tar and wires flying off wheels...hot, noisy, tar everywhere...no biggie, only takes about 15 hours, two grinders, and half a dozen wire wheels at 20 bucks a pop...
Never undercoat a car if you intend to keep it more than 5 or 6 years- paint it and touch up any rust bubbles annually. Undercoating gets rust underneath, and looks same until it rots and falls out, at least paint will bubble up if it starts to rust underneath...
One fairly large, half dozen small patches to floorpans are all done, now looking at cutting out outer trunk/inner wheelhouse portions- hoping to be able to carefully remove a foot or so from the original lower quarters which have now disintegrated and clogged everything with rust. Poor "repair" still causing trouble- suprisingly the new/outer quarter patch panels have no rust (dug out 2" of dirt/rust, found only very light surface rust, no pitting even?). If the rust can be removed, the inner sheetmetal should be easy to fix and seal correctly, If not, bodywork nightmare- cut patch panel, cut quarter, replace panel with same patch panel(full quarters not available)...would be one warped up panel to straighten out...Will try to update when time permits
9/12/2003: got the old inner quarters out without damaging outer sheetmetal...drivers side outer had minor pitting, but other than that, good shape. POR-15 painted inside outer panel, cut some bad areas from inner/outer wheelhouses- gave good access to inner rockers- excellent shape, but going to flush/clean/etch/POR-15 paint inside to keep them that way...lots of welding to do in wheelhouses/trunk extensions, and trying to keep access to paint after welding will be interesting- probably couple weeks at least before body gets bolted on for the last time. Still need to seam seal and POR-15 the underside, clean-up the motor/trans/driveshaft/core support/front sheetmetal...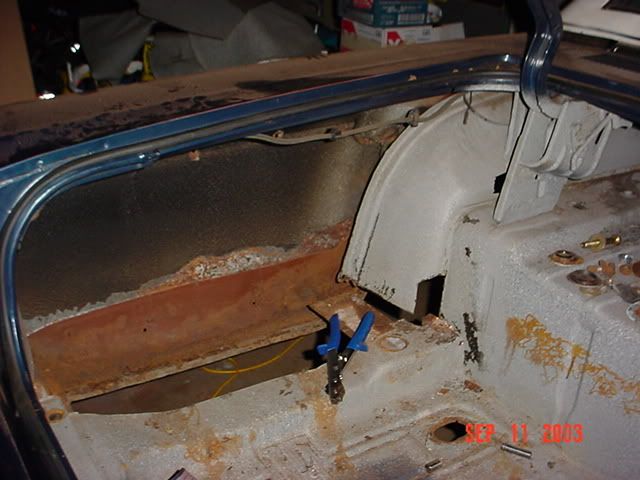 Auto-Krafters first shipment of parts came today-parking brake cables,stainless brakelines, heater core, correct radiator hoses/clamps, dual circuit master cylinder, etc...hopefully can start assembling soon- HAVE to get my other car (69 mustang fastback) back inside before winter! This thing is taking forever...still hoping to give back to my neighbor when its done...maybe for christmas.
If it ever gets back together, still need to repaint the roof...bad checking from age. Might fill/block/paint quarters to try to get rid of the 'bondo bucket' looking seam at the trim line...more later
Saving a 1965 Ford Galaxie 500 LTD(page two)
9/30/2003: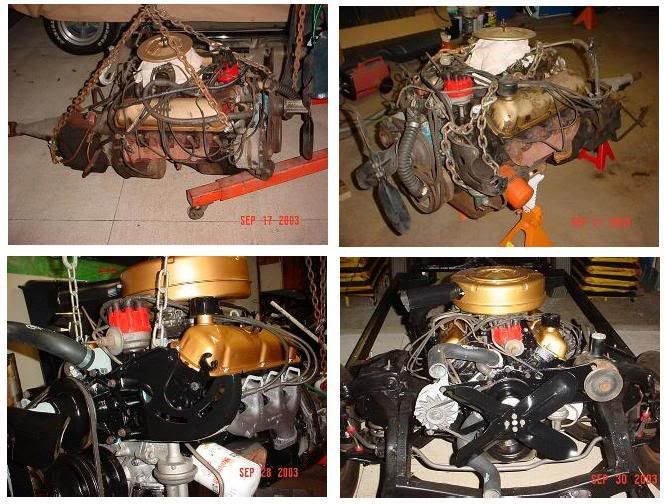 Got the detailed engine/transmission back in the chassis tonight(just a little old 289-2V with Cruise-O-Matic). When pulling the fuel pump for detailing, reached in and found the timing chain was worn out, oil pan was pitted at the back, so it got a fresh chain and a chrome Summit Racing pan. The heat riser was a bit rusty at the bottom, just trimmed it a bit- dont show, shouldn't affect operation much. As days are getting shorter/colder, indoor detailing is coming together- but hopefully will get a few more nice days to work on welding up the wheelhouses...I'm afraid of welding in the garage as too much stuff for sparks to find...only takes 15 minutes to roll out, lift body, roll frame clear, put on stands- have done it at least 20 times so far. Only 'inside' work left is detailing core support/heater plenum/driveshaft, installing parking brake cables(have to put mounting holes in frame still), and installing stainless brake lines(still waiting on AutoKrafters- showed shipped the 16th...) Starting to see the light at the end of the tunnel, but probably another 40-50 hrs work(15 or so of these outside) before the big parts can start getting put back on(doors,interior, etc...)
10/13/2003: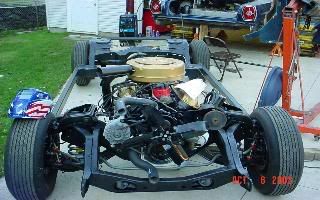 Well its been almost three months in the making, but tonight THE CHASSIS IS 100%FINISHED. Only worked on it a few hours this past week, as busy at work, school conferences, things around the house...but anyway, it's done. Parking brake cable locations are a bit non-standard, as I made the rear torque boxes more 'one piece' than Ford did- the parking brake cables had to exit inside the control arm rather than beside it. Panhard rod mount, tailpipe hanger, other small stuff went pretty quick, but it all takes time. As its getting dark soon after work, picked up a 500watt floodlight- for some reason my welding helmet wont always darken if its too dark outside- with the floodlight on, it worked fine tonight. Next its getting the wheelhouses/trunk finished- lots of slow going, but as its all thats left of the 'dirty work'. That milestone is on the horizon. Cant wait to start bolting the big stuff back on- right now I've got fenders,doors,seats, etc, stored in my brothers, and brother in law's garages- I'm sure theyre getting tired of looking at them, and I'm wanting to get everything back on soon, before anything gets scratched. Unless you've stripped a car this far, I dont think anyone would realize how hard it is to remove, haul, and store all the sheetmetal and trim without scratching something (and how much space it takes).
11-4-2003:
Last night sat the body down for the last time...after por-15'ing the underside, shot it with a coat of POR15's 'tie-coat' primer- any paint can be shot over this(nothing else will stick to por-15), but instead of semi-glossing the whole thing, decided to leave it blue- will semigloss wheelwells/trunk bottom, but the light color elsewhere really brightens it up underneath, as you can see...
Took lifting cradle/hydraulic lifts/cherrypicker to brother-in-law's building for storage, and brought the doors back home. The doors have some rust on the bottoms, will etch/por-15 but thats all for now- the chassis couldnt have waited another year, as I'm certain it would have snapped just sitting there...the body/paint (except roof/quarters) can wait until it no longer looks presentable, then the whole car can be repainted down the road a couple years...
This weeks goals are remounting/aligning doors, installing steering column/linkages, to be followed by prepping the roof for paint. Once roof is painted, trim can be bolted back on, and then interior can go back in. Hopefully wont chip any glass pulling mouldings from front/rear windows, and hopefully no rust under there(would need to pull glass/patch/reseal...). Anybody out there thats pulled window trim before please drop me an email at:
[email protected]
- I have the little arrow shaped tool to pull this stuff off, but dont know how its supposed to be used- help!!(also- any tips on pulling/reinstalling headliner would be appreciated)
My neighbor Ben keeps offering a hand, might need him to help put the doors back on- not too hard using pad/jack, but extra hands help a lot at minimizing the risk of damaging something. I'm soooo glad to be done crawling around under this thing- must have aged my knees/ankles ten years the last couple months. WAAAAAAA...
11-9-2003:
As you can see above, the doors and deck lid are back on- Ben and my nephews gave me a hand bolting everything up- starting to look like a car again.
Had to spend a couple evenings getting overspray off doors(storage mishap...was afraid it was permanent, but a coworker told me to try enamel reducer- said it shouldnt melt the factory baked paint- took some scrubbing, but worked & didnt harm the shine much). Rear bumper has been cleaned/por-15'd on backside, and is back on, still need to put steering column/master cyl/heat plenum/interior in, then start prepping inner fenderwells/fenders/front bumper/hood hinges/battery tray, etc...moving along pretty quick now, but havent been putting many hours on it- dark/cold evenings, getting busier at work...still think may be driveable in a few more weeks...
11-17-03
Got the rear window trim off- anyone wanting to know how to release the clips, slide the arrow shaped tool under middle of molding, hold at angle so one side of 'arrow' is parallel to edge, slide along glass until outside corner of 'arrow' snags a clip- rotate handle back to a bit less angle, this pries the clip inward- while holding, press in on outside edge of trim, release and it pops right up. dont start in a corner- I did at first try and chipped glass slightly(trim will hide it). Lower clips rusted off, so will need to remove window to replace.
Been piddling with painting the misc brackets for underhood area, got the steering column, parking brake cable/pedal, master cyl/pedal back in- the 'universal' brake pushrod wouldnt work, cut off the original plate pushrod, cut a slot thru end, welded piece of universal pushrod back in slot- 5.25" from pin centerline to tip of pushrod. this was a conversion from single circuit power to dual circuit manual master cylinder. Splicing the pushrod allows keeping OEM brakelight switch. Heres a pic of the trim tool pulling a clip back, and the installed/modified brake pushrod:
11-18-03: This sucks...went out tonight and rear glass had exploded sometime today...could still hear crackling. I used urethane body mounts except over rear axle- reused rubber ones, big mistake, as I think the softer rubber must have crushed under the bolts, binding on the hard urethane ones, stressing body/glass...Now do I restrip doors/steering, etc, relift body, or try to loosen up and lift just the rear- one way puts me back a couple weeks, other risks kinking roof/totalling the car. This really sucks
11-18-03: Well now that the rear glass is destroyed, need to decide how to proceed... I had shimmed all the mounts for even load bearing, but hadnt really thought- should have taken the time to machine the other two mounts from urethane so at least all would crush evenly. I'm pretty sure the soft mounts are what stressed the body/glass, and combined with removing the trim, and chipping the window, then a big temperature change overnight, it was just too much. Do I risk destroying the body by lifting just the rear and continue on, or remove doors, steering, brake cables, etc, haul back, bring home hydraulic rig to safely lift body again..
11-24-2003:
Well enough whining about a broken window...Saturday/Sunday was record high temps, figured if painting, it's now or never(next year at least), so went ahead and sanded roof down to bare metal, fixed a few pitted areas around trim studs, straightened old factory seams that were starting to show, filled dent where something had fallen on the car many years ago(was the only ding anywhere on the car- I'm still looking for the thin band of trim that follows roofline around if anyone knows a source...).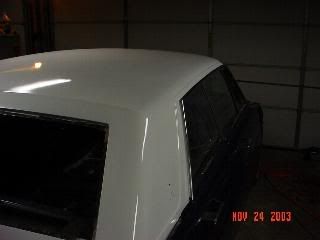 As weather was due to get 'normal' today, had to get paint finished this weekend- was still mid 60's this morning, by noon it was under 30- so I finished up about 2am last night/this morning. Shot it with 'k-36' PPG three part primer, and regular delstar enamel. That k-36 is great stuff- I used it on my first attempt of a paintjob: my camaro in '95- had surface rust in various areas- and although it's not seen salt since, no rust/ blisters/ peeling (yet)- and the car sits outside year round...must say that I liked the 'concept 2000' basecoat/clearcoat much more than the enamel- for a beginner like me, its much easier and faster to fix mistakes. The Galaxies roof got 3 flies, 2 mosquitoes, and a moth in it last night...bugs must like the enamel smell...anyway with the enamel, will need to wait a month or so before wetsanding/polishing out...on the camaro I ran the paint, was able to block/re-clear after just a couple hours...
Back to the body problem- when I thought about it, lifting one side at a time should be safe, and can do it with just a 6x6 under full length of rocker with a floor jack...doors stay put. Pulled rear bumper, steering column, brake cable out tonight, body just sitting there(again). Should have body mounted again before weekend, then time to go pick up fenderwells and start prepping these. Hopefully will have an answer on window/trim tomorrow...clocks ticking.
Also still need mount/tee for brakeline(junkyard item), and couple short runs tubing to master cylinder, need to detail power steering pump and shift linkage, and few other misc brackets for frontend.
11/30/2003:
Well Its 3 am...body reshimmed, rebolted on all urethane mounts, I'm just praying no more glass troubles...Did order a rear glass and the piece of trim I had been searching for forever- junkyard in Maine had both, reasonable price, said they can ship UPS insured- I'm kinda expecting a box of broken glass, but will be hoping and praying it arrives intact (and is the right part). They had several of the 4 dr hdtps, but are crushing 1/2 their cars on Dec 5th- thinking about ordering a spare glass before then...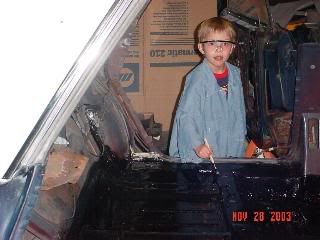 As you can see above, my little helper assisted in POR-15ing the passenger compartment- we also got the heater plenum/fan/core/hoses installed, recaulked the floor vents after painting inside cowl, and drilled the rear floorpan for new seatbelts that are on the way...
Hopefully tomorrow-er this morning-will get the steering/shift linkage/parking brakes/rear bumper back on, and maybe have time to go to brothers to pick up front seat/inner fenders. Still lots to do underneath- clean/seal/mount fuel tank, run fuel line, etc, etc, etc...looking unlikely to be finished for Christmas, but should be close.
11/30/2003:
11pm- Well, got everything back together except rear bumper- mounted core support to test fit fenders- will need about 1/8-1/4 shim on each core support mount to raise front of fenders up. Glad frame height was OK...I'd have felt pretty stupid if fenders would have been too high
Forgot how rusty wheelwells were- bad battery tray, front panel on other side shot, one upper hinge mounting area will need replaced...worst of all: more undercoating to strip off. Have I mentioned lately that I really hate undercoating? Will also need to POR-15 inside fenders/back of front bumper...a good weeks worth of evenings to clean/make replacement sections/paint wheel wells...it seems like its never going to end, but the pile of parts is getting smaller pretty fast now, might even get my Mustang back out of the weather in a couple weeks.
Saving a '65 Galaxie (page 5)
12/15/2003:
Well, good news- got a rear glass, bad news- it dont fit very well. The 'new' old glass has about 1/4" or more curvature than my roof. After all the waiting/worrying, aint about to try to send it back- maybe the donor car was tweaked for enough years that the glass took a set, maybe mine is...dont really know any way to check- anybody wanna cut me a 'template' to compare it to? : )
Packed extra sealer at the high point in the middle, will try shooting urethane adhesive around tomorrow,(hopefully will lock everything in place and give some support) and see how long it lasts...looks like trim MIGHT fit, but gonna be snug at center, and near 1/8" gap from glass at top corners. At this point...
12/19/2003: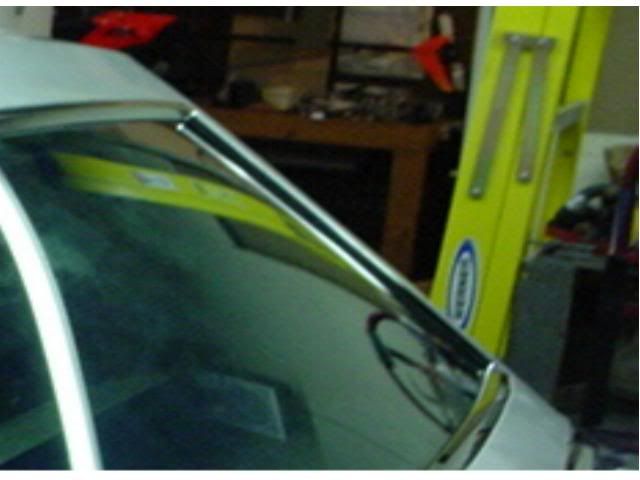 Well, 'sprung' the trim so it wouldnt press too hard at high point in center, sprung it closed at corners as much as I could- looks OK I guess, but as you can see above, theres still quite a gap at top/bottom corners, couldnt do much there as side trim is short/straight, not really enough room to twist both ends down from center. Hopefully all the interior will be back in this weekend- then back to fenderwells/front bumper/painting inside trunk...doubtful to have done for Christmas as too much other stuff to do for the holidays, but not much left to do now...
2/22/2004:
ITS ALIVE! Been a while since I updated anything, Took some time off since just before Christmas, as I knew there was no way to finish it by then, so gave up trying- was really getting burned out on it...last week got back after it, got front clip all lined up- man theres a lot of screws in the front of that car...
Ben and my nephews helped me put the hood on friday, put bumpers, radiator, wiring,
etc on yesterday. tonight bent up tranny lines and hooked temp gas line to a can, and fired up the motor- was ticking horribly for a few minutes, but let her run almost an hour to 'burn the stink off' from all the new paint, no sign of any leaks, all the lights, heater, etc worked fine.
Still need to run vacuum line to reservoir can, mount fuel tank, run fuel line tubing, go back over all the nuts/bolts again underneath to make sure nothing was left loose- then its time for a few shakedown runs/ doublechecking brakes and other things to make sure all is OK...My boys cant wait to go for a ride- kinda funny, but as soon as it started to look like a car again, their biggest worry was finding seatbelts for the back so they could ride too...the night we put the seat/belts in, they all three took turns in each seat deciding which one would sit where...
Still far from 'finished'... should be on the road again very soon(test drive in a day or two-weather permitting), but roof trim, gas door, rocker/wheelwell trim, wiper motor, airshock lines...surely the list will go on, but it is shrinking fast. I'm probably going to try to touchup/airbrush the creases where paints been rubbed thru from all the polishing Ben did on it, maybe then take and have the whole car shot with clear- would like to preserve as much of the original paint for as long as possible, but before mid summer anyway it should be looking good top and bottom. Ben has mentioned a couple times that he figured I would rarely drive it 'except for parades or whatever', maybe I can get it done in time for him to drive it in one of the summer parades- that would be cool!
2/23/04:
Pulled transmission apart to fix leaky seal-actually looks like easy job(albeit messy), just drop the pan(and install drain plug), knock out valve body tubes, loosen front servo a bit, drop valve body, take off two nuts, and shafts pull out...the factory service manual is great- tells you exactly what has to come out, in what order...I think the o-ring for the inner kickdown shaft was the leaker, as it looked a bit worn, the outer selector shaft uses an actual lip seal and it looked fine except for damage from seal puller. Parts stores around here dont carry cruisomatic filters/pan gaskets, had to get a roll of material and make one...My 4 yr old was my helper tonight, he had great fun punching gasket holes- was kinda scary holding the punch for a 4 yr old with a hammer and a big smile on his face!
Hopefully I can get replacement seals at lunchtime tomorrow, maybe get a short test drive tomorrow night. Was really suprised at how clean pan was, aside from some whitish buildup from moisture in the oil (hasnt had over 200 miles on it singe '78) was very clean...have to ask Ben if/when it was last serviced. Awful clean for 54,000 miles...
2/27/2004:
Well the old gal hit the road tonight- just got the seal for the tranny today, went back together easy, no leaks (yet)...messed with the engine for about an hour- would run smooth until put in gear, then backfire/stall. Got the old dwellmeter and timing light out(hadnt used them in over ten years), adjusted everything- no. Opened carb, adjusted float a little, reset idle bleeds- no.
Doublechecked firingorder as cast on intake, and duh... how in the heck it idled so smooth with three wires swapped ill never figure out- purrs like a kitten now. After going back over nuts/bolts one more time, put it in gear and took a spin around the block, came home to a couple mad/pouting little boys- they wanted to go too...rechecked fluids to make sure no leakers, dropped idle rpm as it was tugging at the brakes a bit, then took them for a short slow ride around the block- they finally got to use those seatbelts...and they went running in the house to tell mom all about it.
The manual brakes took a heavy foot the first few stops, but have already gotten much better after only maybe a mile of start/stops...might put a few miles on it tomorrow to get the pads to wear in, should be fine.
What a great day...weather was beautiful, got a pet project at work programmed and running, came home and got to take the kids on that ride they(and I) have been waiting so long for...Ahhh
Saving a 1965 Galaxie 500 LTD...page6
2/28/2004: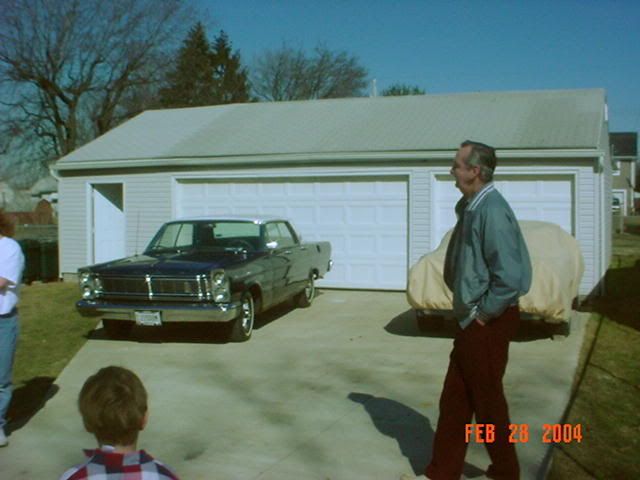 well, the boys and I put a few miles on it today, brakes still feel too heavy- may need larger diameter pistons in front wheel cylinders to give softer pedal pressure... Ben came over to check things out as I was installing the trim on the roof, asked him to take it for a spin, but he had things to do... Cant wait to see what he does when we drive it to his house with a big old bow on it!
Flushed- etched tank tonight, will seal tomorrow with por-15 tank sealer, need a couple more cans of spatter paint for trunk, and rubber plugs for floor, might pull door panels to paint por-15 inside to slow down rust- but all 4 doors really could use replacement or at least a lot of repairs. A couple squeaks in the drivers door need tracked down, and passenger door window needs more alignment work- slight air leak...runs and rides smooth, but gotta get lighter brake pedal.
3/27/2004:
well, wasnt gonna get into paint, but just couldnt stand to look at it anymore: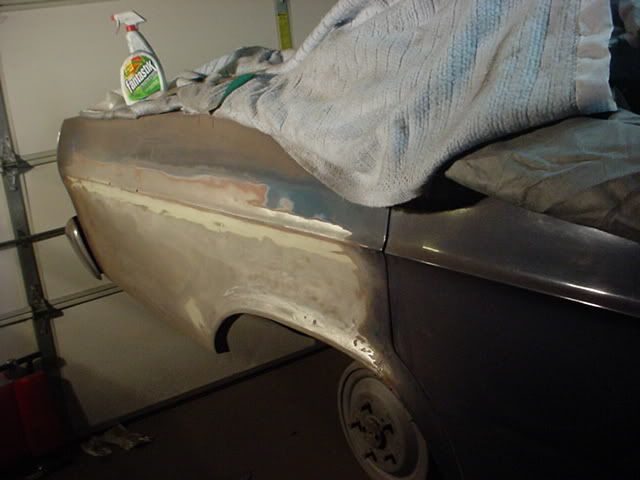 no going back now...as you could see in the pic, the weld seam is a wavy mess(look how straight that old door is!). In other pic, can see why- filler wasnt feathered more than an inch or so from the seam, with no filler at all above seam...distortion from brazing had warped top as bad as actual seam.
Ground it all out, figured no matter what its gotta look better than it did- got it rough shaped already, seams looking good, but finding other areas had waves too- just didnt notice much from the severely wavy crease. Probably will be sanding/filling for another week. put a coat on, sand almost all of it off, repeat until it all cleans up just as dark areas begin to show metals close to surface...arms already tired, but figure good practice anyway. should be blocking primer by midweek, hopefuly have paint on it next weekend- if it looks ok, might start other side too- will see if I have any ambition left. Oh well, at least there is no rust.
Already went thru doors, dug out all the nooks and crannys, etched, por-15'd. Still need one more quarter ornament, that should be last part- oops: gotta replace thermostat housing- think it may be cracked/porous, as it started leaking after a few days driving. leaked last year, thought just a gasket, but it was pitted pretty bad inside.
4/6/2004:
Well blocking almost finished- for the radius to trimline, found a piece of leftover basebord molding from the house was almost perfect match to factory curve(at door), sanded it a bit for tight fit, used this as block to straighten top/bottom of trimline.
Used several coats of filler, almost all of which was sanded back off...edge feathered about3" in filler, dissapearing into K36 primer/filler. The seam is about as good as I can get it, no idea how its gonna look painted, but 'when wet' looks a lot better than it was already. Not happy with dogleg blend, as it definitely falls away from the seam, hopefully the contour/radius will hide this it a little in the reflection, but without major surgery(new dogleg) or an 1/8" of bondo, it will have to stay that way. Hopefully it wont be too ugly, but still has to be better than before(never really noticed this area before, but with the 'corrugated' seam, was hard to see much else).
4/8/2004: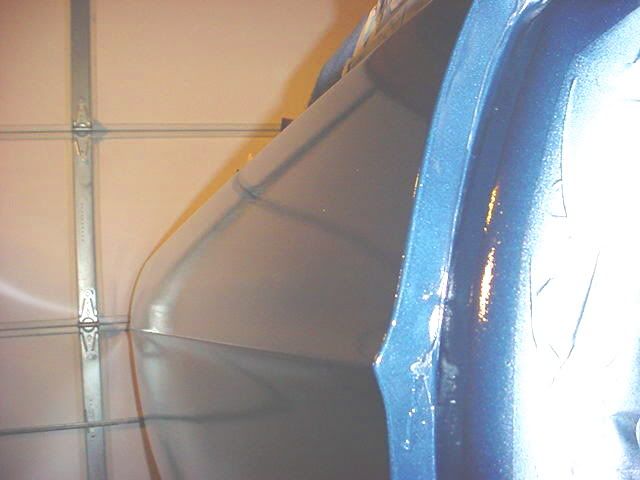 well, its just basecoat(deltron), but even with a low gloss I think its gonna be fairly straight. the dogleg area I was worried about was fine- except I missed a low spot above it- gonna have a ding showing. also got a line about 3" below trimline, a foot long where edge of block cut in a bit- oops...hopefully will have cleared tomorrow, I'll probably block after a couple coats, finish coat Sunday...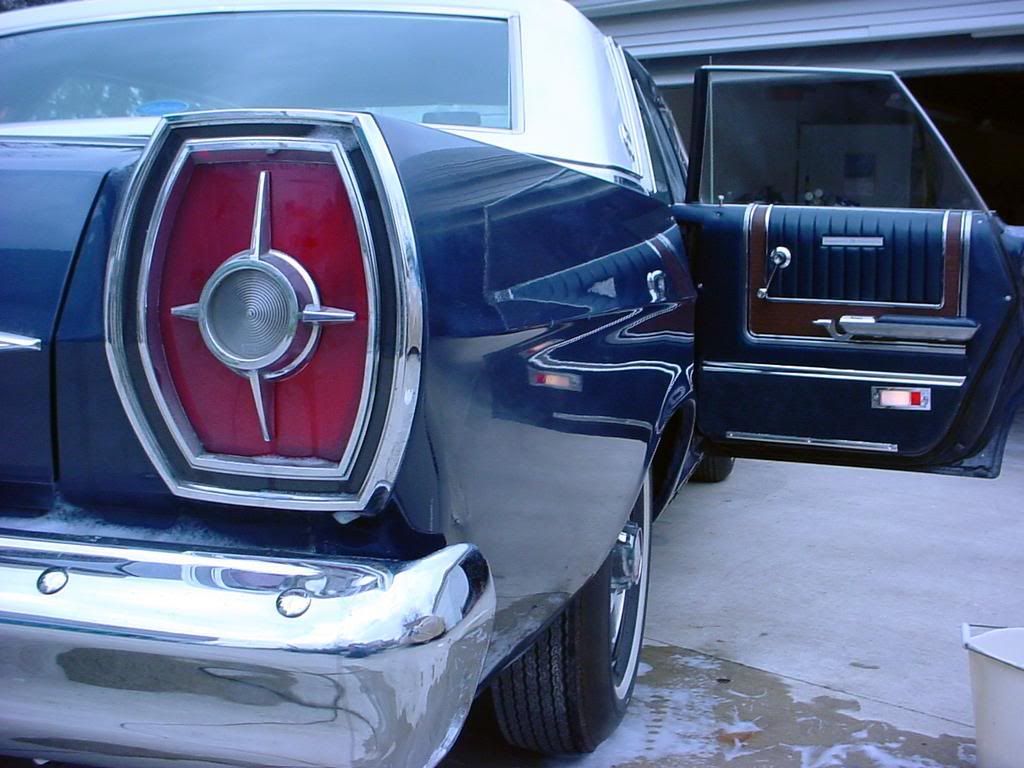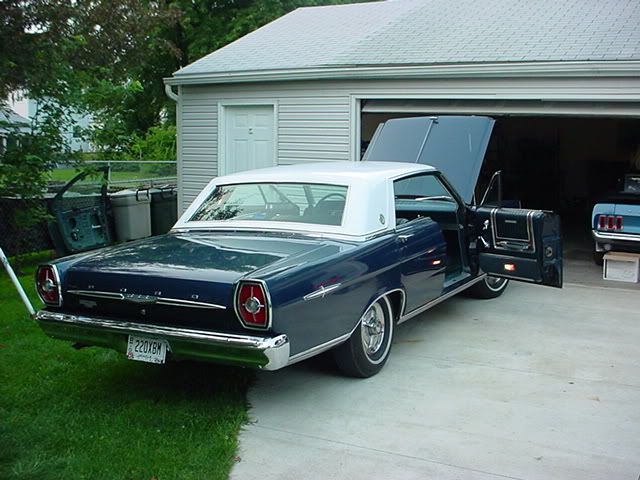 4/21/2004(wed):
Well, sunday we took the car back to Ben- but he refused to take it...said we put too much work in it, he just wanted it to go to someone that would take care of it...was funny as my 5yr old got kinda mad at him for not taking it. Had a big red bow on the bumper, had been lookig forward to this for a long time- pulling it into his driveway was the 'finish line' to a long project...now I gotta figure how to get the mustang back inside- I guess its gonna have a partner in the garage from now on...
Monday evening the gal was in the yard, I was doing a little work on Ben's other car, my 5 yr old started argueing with him about the Galaxie again- Ben told him that it used to be his car but he wanted "mommy and daddy to keep it, so they can take you and your brothers for rides"- Bobby ran in the house to 'explain' to mom, and right away his six yr old brother yelled out the back door"Daddy its gonna rain, you better put OUR car back in that garage!"...Ben thought that was hilarious...
Ben's daughter took this pic the day we took the Ford back...Ben pulled the bow off and stuck it on my wife...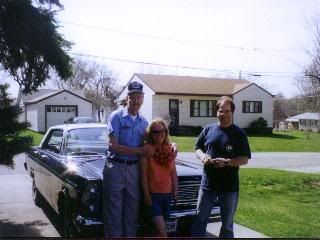 9/7/2004:
Hadnt added anything in a while, thought I'd add another pic...Ben went with me, the boys and a nephew to a local cruise spot- was gonna get a pic of him and my nephew Jeremy and the old car, but as I snapped it, he grabbed Jer's ears...'daggone kids, ya can dress em up but cant take them anywhere'...
Not much has changed on the old Ford, did find the elusive passenger side mirror(Ben insisted he 'drove that car almost 40 years and didnt need one'), I was really uncomfortable backing in anywhere without one - sucks as the NOS mirror cost 200 bucks(more than my first 2 cars did!). Also found a NOS realistic fm converter for the old am radio- not stereo of course, but gets all the stations. Did find a set of rustfree doors in michigan, as shipping is horrible from out west, went ahead and drove up to buy them while I had the chance. will strip them later, but at least I have them now- they supposedly came off a school autoshop car, no rust at all, fairly straight but all the bolts look like theyve been in and out 100 times...and at least several coats of paint...will probably sit on them for a couple years, until the car gets a repaint- up close it really needs paint but from even 5 feet away it looks too good to mess with.
Kinda looking for a set of the deepdished/exposed lug/16x7 crown vic wheels that were used from 93-96 on cars with the handling package- tried various wheels on it, and the 'sporty' wheels are just out of character with the car- I think the more formal spoke wheels would be a great match, and would really dress it up a lot.(I just hate hubcaps...cant help it...)
Ben saw me trying different wheels on it, and gave me that 'youre out of your mind' look, but he did say he liked the look of my old oem spoked mark vii wheels on it( but I didnt like the offset). I know the C'Vic wheels will look just right- then gotta decide blackwall/whitewall/RWL for the tires..
11-21-2004
Ben quietly passed away at 9:00 tonight with his family at his side. As deeply as it hurts to lose a great friend, I'm glad he's at peace- the past few weeks had been up and down, then things went downhill, after a couple days ago I was just praying things would go easy for him. He never complained, but you could tell he was getting wore out. The last 24 hours he rested comfortably, and we were all very thankful for that.
Ben joined the merchant marines at 16, then went into the army to help do his part in ending WWII...He met his wife in Germany and they lived a long and full life together, we should all be so lucky. She passed away a few years back, and he missed her dearly- he always talked about her...He was so proud of his daughter and granddaughters, that invariably everytime I'd go to visit, something they had done, were going to do, were doing, etc always came up. He enjoyed teasing my kids immensely, and they always teased him right back- they'll miss him too...every time they went over they'd kinda obviously look around the corner at his candy dish, and he'd have fun ignoring them for the longest time before saying "go ahead and get a piece of candy.." last year he played kickball with them, and basketball a couple times, they still talk about that... We loved him dearly and will sure miss him
Well, I'm beat- probably the last entry for the cars webpage. Hopefully we can do right by Ben, and keep his old Galaxie in decent shape for many years to come...just an old 4 door to most people, but for me and the kids, it was more than just a car. His brother Don said Ben really enjoyed getting to see it all redone. The one day he drove me and my neighbor Al around the block in it was a real big moment in my life- I just wish he could have had the chance to put some more miles on it. Every time we take it out one of the kids always says proudly "we sure did a lot of work on this car, didnt we..." they really had fun helping- even if mostly cleaning and painting, they sure enjoyed doing it...next its about time to finally start on that mustang- many guys I work with have gave me a hard time about putting so much time and money into what in their eyes was a worthless car, while the 'cool' mustang sat there (for 20 years now) awaiting restoration...I guess it is about time to get after it.
I too am very glad Ben got the chance to see his old car redone- and I thank God I didnt destroy it somehow along the way - the rear glass incident actually probably came close though...lucky I didnt kink the body.
To anyone that read thru all my ramblings, thanks for taking the time- take good care of your friends and family, God Bless.
Deb over at world-of-fords.org made this collage up a couple years ago...thought I'd throw a copy in here too- kinda sums up the year we tackled the galaxie