Discussion Starter
·
#1
·
A few PICs of my efforts to clean up the Air Cleaner/Cold Air Intake assembly on The Yellow Monster
This air cleaner assembly might have close to 30 hours of body work into it ... I added the second snorkel on the first run at it ... then welded the vent openings shut and made new ones to match what I needed ...
Then with the 468 swap the whole thing had to be made into a "Drop Base" unit to clear the hood and then the top modified once the base was finished so the lid would not choke off airflow ...
Then additional modifications to clear the electric choke, throttle linkage and fuel line because once you drop the base all that stuff is hitting the base of the assembly.
It was an adventure to say the least ... but it looks and functions great now.
_________________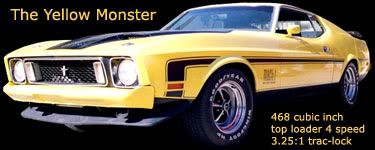 <font size=-1>[ This Message was edited by: MonsterMach on 3/1/06 11:42pm ]</font>